Across the USA
Trending
Finding Freedom in Historic Concord (25 Photos)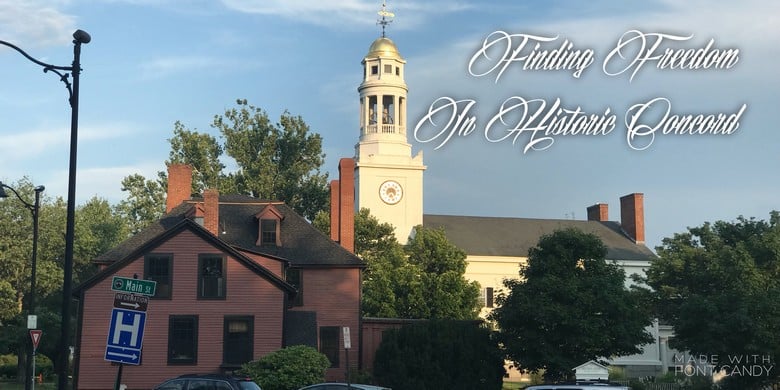 Travel is awesome, but all this is empty without the sense of meaning behind it. No better place to remember that than to go to Concord, Massachusetts, but perhaps not for the reasons you think. You see, one thing M & I discussed sipping coffee at The General Store, was how far we have come in the last five years. My first real plane ride was to Jamaica on my honeymoon, and M was always afraid to travel by herself until we went to Las Vegas together on a girls' trip a few years ago. Now I have over 100 round-trip flights to my name, and the day before I arrived in Boston, M just flew alone back from Brazil on a 15-hour flight.
There is something to be said for finding your own identity and not be defined as belonging to anyone else. This is what we related to as we walked the historic place of the Revolutionary War. Finding freedom can mean many different things.
Before meeting each other when we lived across the street from each other:
M was afraid of flying and did not know how to pay a taxi driver
I had no clue how to drive in a city
I think when I grabbed her that night of our Flamingo and announced "we will be best friends forever" (alcohol was involved) we had no idea that 5 years we would be traveling to Vegas alone, together.
Las Vegas:
We ended up talking to an arms dealer for hours at a bar, getting advice about our lives
We may, or may not, have gotten matching tattoos from Vince Neil's Tattoo Parlour at 10 AM (alcohol was not involved)
We may have gotten lost and walked the streets of Vegas barefoot at 3 AM
We may have been mistaken for Australian actresses (which we did not deny)
There was general amazement at the VIP lounges we were able to visit, mostly by M telling the bouncer "Let me in there" (and he did)
Everything else I will deny happened
Concord, Massachusetts
Here's where it gets interesting. I think it was expected we would to come back with crazy tales of wild escapades, but here's the thing…when you have true confidence and know who you are, what you want and what you need, you really don't need to prove that to anyone. You strike out on your own, you create your own freedom to be yourself, and we created our own battle cry of "You Can't Tell Me What To Do" –this applies to all of us, me, JD, M, Araceli-I think we all find this quest of seeking who we are, if there's More To Life, that push that gives us the freedom to explore, to see, to feel, to be. Sometimes you have to fight for what you want and who you are. You define you. So off to Concord we went to have dinner, take it all in, and celebrate our history and we who are today.
Concord-Where Gals Wander

Concord-Where Gals Wander

Concord-Where Gals Wander

Concord-Where Gals Wander

Concord-Where Gals Wander

Dining at the Colonial Inn. Z checking out the wine list. Concord-Where Gals Wander

The Thoreau room dating back to 1716, Colonial Inn. Concord-Where Gals Wander

The Colonial Inn. Concord-Where Gals Wander

The Colonial Inn. Concord-Where Gals Wander

The Colonial Inn. Concord-Where Gals Wander

The Colonial Inn. Concord-Where Gals Wander

The Colonial Inn. Concord-Where Gals Wander

Concord-Where Gals Wander

Concord-Where Gals Wander

Concord-Where Gals Wander

Concord-Where Gals Wander

Concord-Where Gals Wander

Concord-Where Gals Wander

Concord-Where Gals Wander

Concord-Where Gals Wander

Concord-Where Gals Wander

Concord-Where Gals Wander

Concord-Where Gals Wander

Concord-Where Gals Wander

Concord-Where Gals Wander