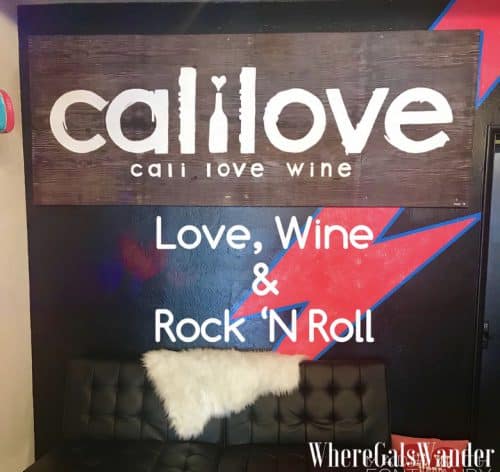 Flamingos. Enough Said.
It's the perfect combination of Flamingos, Wine and Rock and Roll. It's a place called CaliLoveWine in Solvang, California. You can order wine from CaliLoveWine online, but really, you have to experience it. The experience is not a stuffy wine tasting. Oh no. As soon as I saw the plastic flamingos in the window and the electric guitars on the walls, I knew I found a new favorite.  Walking through the fairytale, Disney-like Dutch village of Solvang, with its windmills and horse-drawn carriages, when I stepped into this little place I knew it was part of my fantasy.  Was this a bar? Winery? Karaoke place? Music memorabilia museum? All of the above?
Amanda, the bartender/DJ/hostess fit in perfectly with a flowered kimono, Lynrd Skynard tank top and cut off shorts.  She told us how CaliLoveWine was about to hit their five year anniversary and the various vineyards to craft their bottled wines bearing their label, and from the pretty steady stream of customers, they appeared to be quite a hit Solvang.  It may have been Amanda's friendly approachability; it may have been the wine, it may have been the vibe or the music.  She was inviting everyone to sit at the bar and chitchat, she was granting song requests and having everyone to sing along and encouraging jumping up on stage to grab the mic.
CaliLoveWine really reminded me of the  Flamingo neighbor basement parties we had back in our Chicago neighborhood before I moved to Los Angeles.  We always used to have these theme parties (almost monthly) and sure enough, there was a giant collection of hats and props in the corner to encourage fun and photos.  Speaking of flamingos, I'll tell you about the other wines, but first, we have to talk about the peach-mango bubbly called "Swing Town".  It's peach.  It's bubbly. It has flamingos. It's yummy. I'm all about that. I bought a bottle to bring home to enjoy. Wine clubs are also available.
Cali Love Wine Wine Tastings
Wine tastings were $15.00, and included:
-Fortunate Son, a white blend from Santa Ynez Valley
-Pink Moon, a Rosé from Santa Ynez Valley
-DragonFly, a Grenache/Syrah/Mourvedre from Santa Ynez Valley
-SwingTown, the peach mango bubbly deliciousness described above.
-DayDream, a red sangria (tastes like fruit loops)
WhereGalsWander Was Here
I signed a WGW guitar pick up on the wall (by the Heartbreaker poster) so you if visit and see it, snap a pic and tag us. The walls had autographed guitars, fiddles, an album collection in the corner-I don't want to give too many spoilers. I'll be back, and I'm bringing the Gals with me. Save us some of that Swingtown Flamingo Wine.
Click here to read why the Flamingo is our spirit animal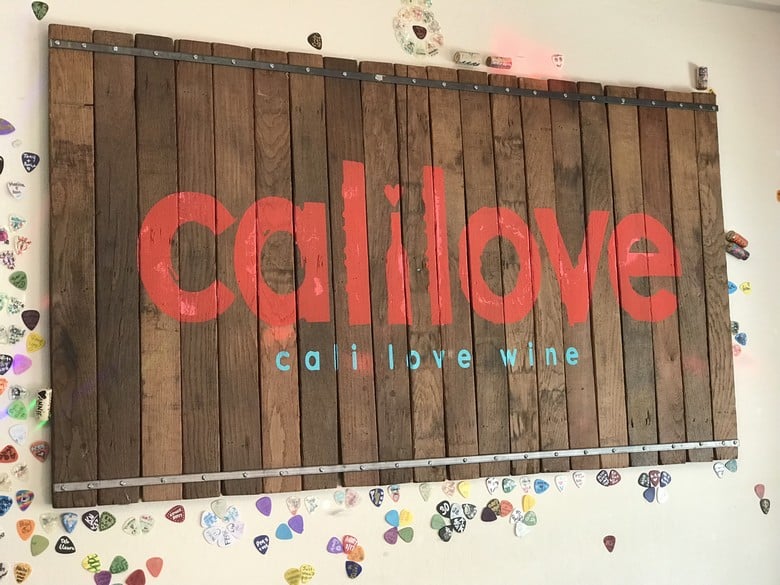 Who wouldn't want to sit here and sip wine under a disco ball?
Did I Mention The Flamingos?
Even before WhereGalsWander began, there were the Flamingos. This is what symbolized to us friends and fun. When JD and I took our Pacific Coast Trip a year later, we knew we had to stop here. But like every other destination we tried to hit on that wine trip, it was closed. So if you go, tell Amanda I said hi, and enjoy the flamingos, wine and rock and roll.
More On This Topic