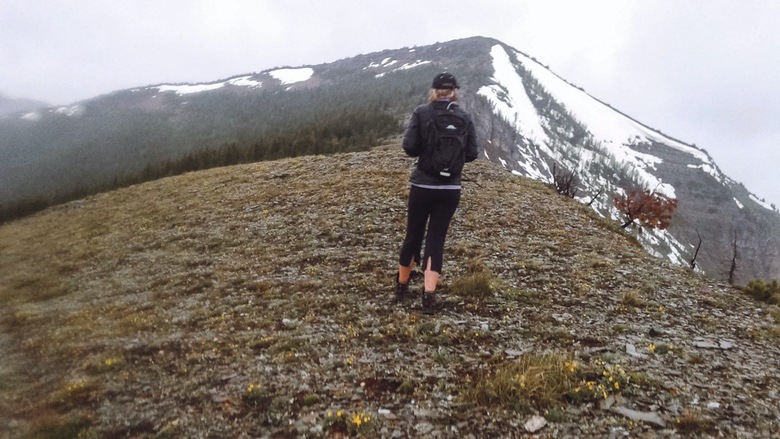 Tale of Two Honeys, Honeys of the Rockies, sharing their tales of hiking their "worst and most memorable hike" in Waterton, shared with WhereGalsWander.com. Val and Emily each share their points of view as they hike in Waterton Lakes National Park.
Honey Val's Tale of Lone Mountain: The Worst and Most Memorable Hike
So here it is. The story of the worst and most memorable hike we've both experienced to this date.
To give a little bit of background, my dad is a big time hiker. He had a goal to summit every mountain in Waterton Lakes National Park, Alberta. I was game to join him on whatever hike I could, because I love to hike but mostly because I wanted my dad back home safe and I figured I could "protect" him from the dangers hiking could present.

Lone was one of the more obscure mountains in the park, tucked away. We started this hike around 1:30 pm because our buddy Tanner (who also had the goal to summit all of the mountains in Waterton) finished work around this time and he was to join our rag tag team of hikers. We had no set plan on how we would get up this mountain, my dad and Tanner just had more of a vague idea. Generally you approach the mountain from the back (direction, south? Idk) and ascend basically a gentle slope to the top. My dad, however, was no basic hiker. He wanted to blaze his own trail. We hike along the maintained trail (Blakiston Creek Trail), Lone mountain slowly making itself known to our group.
Meeting Lone Mountain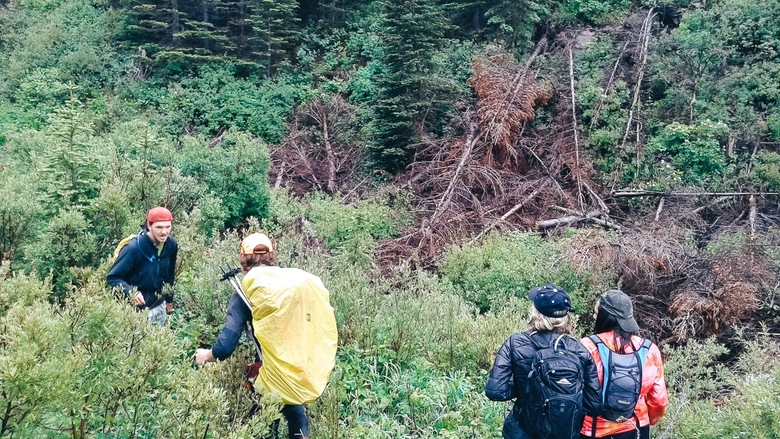 After maybe 45 minutes to an hour we stop and look at the mountain. From our vantage point as we look at Lone we see forest, a big green band of foliage, a cliff band, and more trees. My dad decides that this is where we would ascend the mountain. In the back of my head I was thinking, "that that green band of foliage is actually probably a nasty bush whack", but I kept that little thought to myself.
We venture through brush and trees, nothing too bad. Then we reach Blakiston Creek, which we needed to cross. We made a sketchy makeshift bridge out of a fallen tree. Then we each scale our way across this tree and make it across just fine. We then head up to that apparently docile green band. When we actually reach it, we see that it is not a simple green hill, duh, but thick knarly bushes. Yikes.
The Worst Hiking Begins
We begin our trudge, for each of us is now on our own journey of worming our way up this brush. We'd pop up like gophers once in a while and peer over the brush to ascertain our own progress or the progress of our group. It honestly sort of felt like swimming to me. Crawl, crawl, crawl through the bush, pop up to look around, head back down, and continue. One time as we popped out of the brush, we were treated to a vibrant rainbow as if blessing our journey.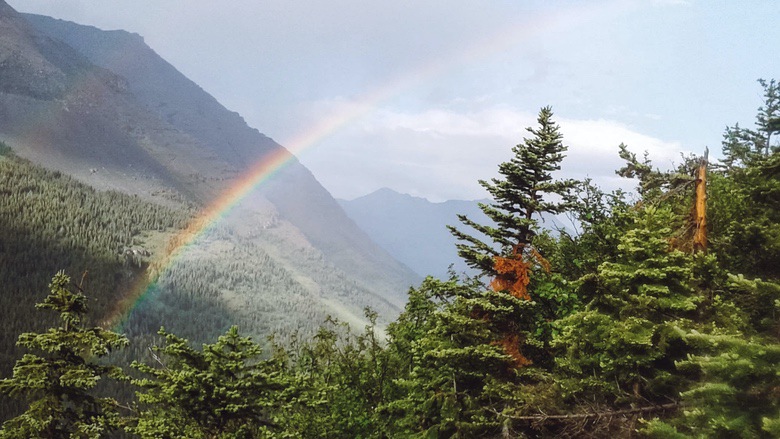 Finally after what seemed like forever-I swore that time either stopped or was stretched somehow- we reach the cliff bands. We pace the feet of the rock, hoping to find a weakness. We find one pretty easily and clamber up the rock for some time. Patches of snow lay there lazily in the sun, greeting us as we gain altitude.
The Weather Got Moody
This is where the weather started to become moody. Dark, rolling clouds beckoned at us. A distant thunderclap threatened us. It got colder and colder. And windier. We climbed up these snow patches, kicking in our feet, creating a snow ladder. Finally we reach the crest of the ridge. Here begins the monotonous slog. We plod along. It starts to rain/hail. We push on. The wind picks up, biting our cold flesh. We continue.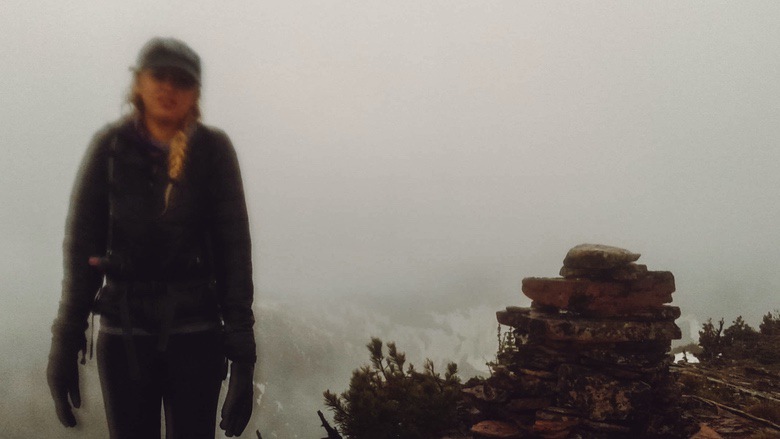 Dark, rolling clouds beckoned at us. A distant thunderclap threatened us. It got colder and colder. And windier. We climbed up these snow patches, kicking in our feet, creating a snow ladder. Finally we reach the crest of the ridge. Here begins the monotonous slog. We plod along. It starts to rain/hail. We push on. The wind picks up, biting our cold flesh. We continue.
I'm a slower hiker so the main group was a bit ahead, though my dad stayed back to keep me company. My resolve started to fade. I was tired. It was freezing. I was soaked. The sun was beginning it's salutation, to welcome the night. My dad gently encouraged me to keep going. I basically numbed all feeling, my body was entirely numb anyways. I became a robot. Step here, step there, shiver, don't look up, just stare at your feet, perhaps time will speed up just for me.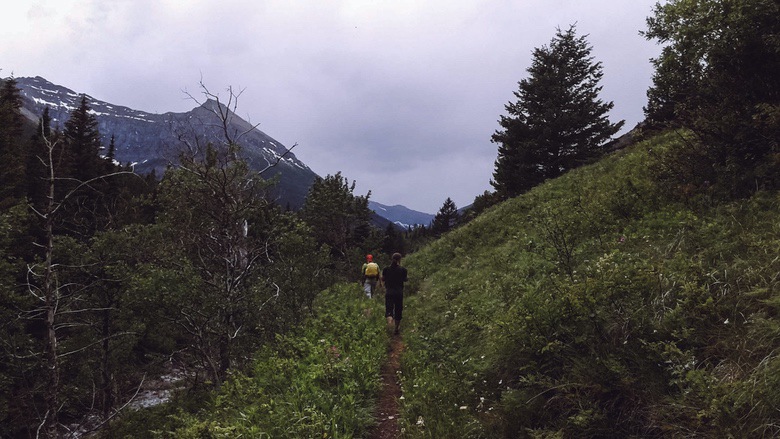 After what felt like ages, we reached the peak. It was so cold up there, coldest I've ever felt in my entire life. The main grou huddled under a rock for some shabby protection from the elements. We stopped for literally a minute to snap a pic and then we high tail out of there. No time for conversation, we just need to lose elevation.
We need warmth. We hurry down the backside of the mountain (the way people usually ascend and descend—we didn't want to retrace our steps of course). At some point we stop, pull out a topological map because we need to figure out where the maintained trail is. We look at the map, we look up ahead at the descending forest, we couldn't see any trail yet but we knew we'd eventually come upon it if we kept heading down this way.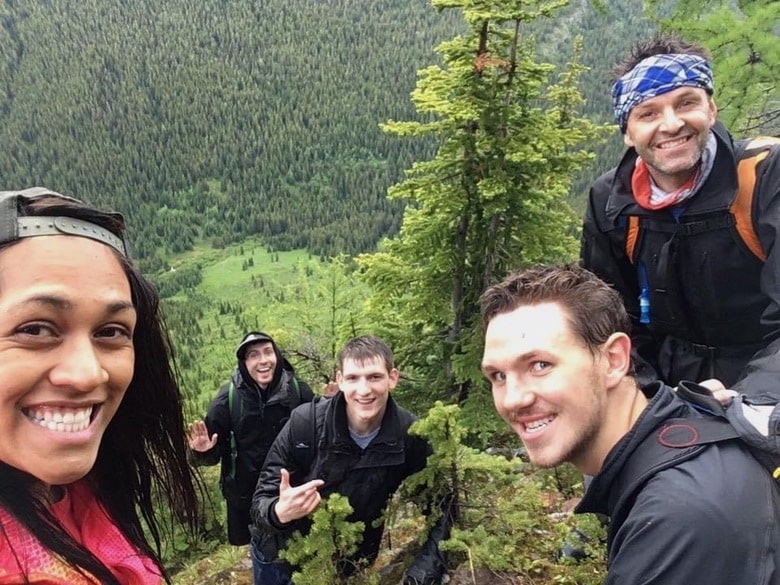 The Trudge Down
We trudge down. It gets darker. The sun sneaks behind the mountains. We need to find the trail before we lose light. We hurry through sparse forest, all of us thinking "where the hell is this trail". It gets darker. The trees become grey ghostly shapes. Just as the last lick of light departed, we stumbled out of the forest and met the muddy trail. Sighs of relief emanated from us. But then a sinking feeling crept in, tainting our high spirits.
The walk back to the car was almost 3 hours, and it was 10pm. We had to bear down and make the trudge, there was no way not to. Although we were all freezing, we couldn't stay the night because we'd probably become hypothermic. We hiked like we'd never hiked. So we had to motivate ourselves to keep going, there was no other option, we just had to do.
I was exhausted. I didn't utter a word to a soul, and I don't think most people did. There was one hiker to attempted to keep spirits high and he chatted away, filling the silent void of night. I remember it was so dark. I could barely see anything. Some of us used our dim phone flashlights. I think only one or two of us actually had a head lamp.
We Pressed On
We pressed on through the night, a slight breeze would occasionally tickle the back of my neck, sending shivers down my body. I had to become a robot again. Don't think. Don't feel. Try not to move, it just unleashes more cold. I waddled. Stiff. Conserving heat. It had to have been more than three hours, how could time move this slow? But the trail kept on coming.
There was no sign of forest life. Not even an utterance. Just quiet. It would be peaceful under different circumstances. Until we could hear the roar of Blakiston Falls, we knew there were just a kilometre left! We're crossing the bridge, thank goodness. Oh and when we saw our lonely cars, waiting, in the dark empty parking lot, I felt so much joy. The relief. We did it. It was over. I would never do that again. We peered at our hike watch, "1am" it read. Yikes. What a long day. Looking back on this experience, I still can feel the ice cold in my bones, it's burned into my memory. But I also know that I can do hard things. I just have to put one foot in front of the other, and keep pressing on.
Honey Emily's Tale of Lone Mountain: The Worst and Most Memorable and Hike
On a supposedly beautiful summer Saturday, after having worked all morning, we took off to Waterton to hike Lone Peak. Val's dad driving one of the cars, and someone driving the other, we took off on a cool adventure to hike a lonely Lone mountain. We stopped in Magrath to pick up our friend who came out in jeans. I was suuuuper worried for him, but nonetheless we carried on. The journey began up near Red Rock Canyon, and we hiked several kilometres inward. The two leading the hike turned left at some point and said "this looks like a good spot."
This is what I saw when they said that: A steep incline, a river to cross, and no trail just bush. What a fun bushwhack I thought.

I thought sort of right, but sort of wrong.
What an Adventure
The incline was way steeper than I or anyone bargained for, made even more difficult by the wet leaves which left us soaked and the muddy ground. What an adventure. For the number of people, we actually hiked pretty quick with ease. Of course we stopped and snacked, we took in the views when we could see, and overall enjoyed it.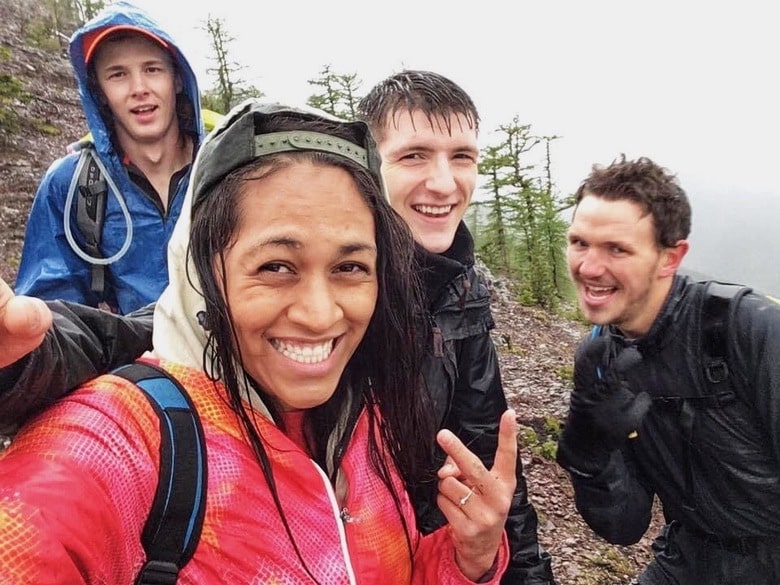 Upon reaching the top, I stood there with a couple of other friends and we took a picture while it drizzled on us. Realizing the electric feelings in the air, hearing thunder and counting the time from lightning strikes. We knew were in trouble.
The Way Back Down
There was no way we could go back down the way we came up because it was so slick. We decided to push forward and hope for the best and continue across the open ridge. Honestly, looking back I think it's a miracle we were not hit by lightning. Getting down was no easy feat. Luckily we had some very positive voices on the trail to keep up the positive mentality as the day slowly pushed far into the night.
We tried to climb down as fast as we could. We also tried as carefully as we could. It is a lonely mountain, hence its name, so it wasn't heavily trafficked. It had no designated trail, so the bushwhacking continued on our way down. We stepped over fallen trees and tried very hard to not fall or slip down. We also tried very hard to head straight down to hopefully connect with a path we new was somewhere that would lead us back to the cars.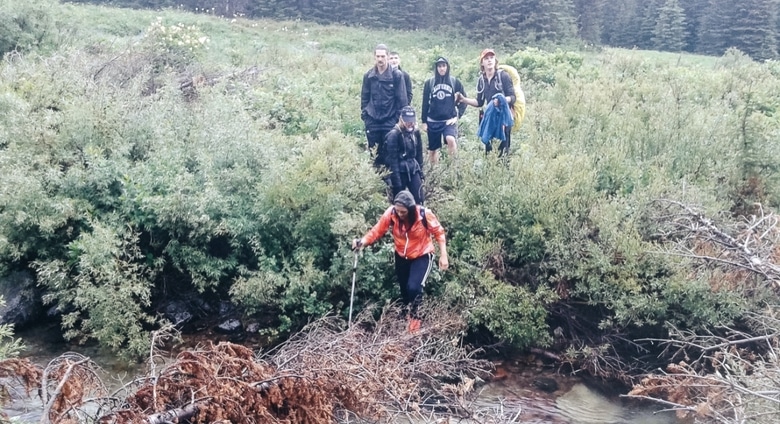 Onward we went. Happily. Grumpily. Tiredly.
After finally finding the flat trail, we still had many kilometres to hike in order to get to the parking lot. And getting to the other side had pushed us a lot further away from where we started up. We made it back to the parking lot at about 1:30 am. Now we are wet, cold, and hungry. Because it was summer, we assumed it would be fine, but it wasn't; no one prepared for the conditions of this hike.

It straight up sucked. Pretty sure I cried for the last hour on our trek out. But what a story! Worth it? Honestly, four years later and I'm still not sure.
Want More Hiking?
More tales from Honeys of the Rockies, their best and worst hiking, Lone Mountain and other places on Instagram @honeysoftherockies. Thank you to Val and Emily for sharing the tale of the worst hike on Lone Mountain. For more hiking tales, we listed a few of our favorites below, and check out more of our Gal Community.
To be a guest contributor, connect with Zanne. We welcome collaborations with other content creators. For others that we have featured and highlighted, check out our sister account at GalsWander on Instagram.

Other Hiking Resources to check out:
Roaming Nanny

52 Hike Challenge