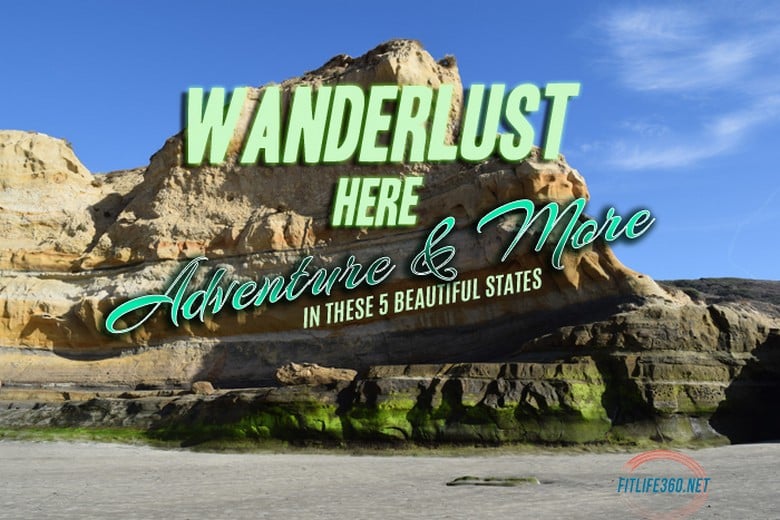 Author: fitlifeandtravel.com
Satisfy Your Wanderlust In These 5 Beautiful States With Extraordinary Adventure, Culture, and Wow!
Imagine a place of red dust infused golden sunsets closing in on a magnificent mountain, sparking blue green water hugging the sandy white beaches, luxurious boutiques, and a close encounter with an magnificent wild buffalo? If you consider yourself an open-minded curious explorer who is hungry for unique adventure; then these exceptional places will have your interests peaked!
Although, there are numerous cities and places I have yet to venture to, these places highlighted below have definitely made an extraordinary impact on me. Each place has its own unique landscape, events, beauty, and flare. I am always in search of new horizons to explore and adventure to experience especially when it comes to climbing a mountain, hiking a new trail, body surfing the waves in the ocean, or relaxing as I watch a post card perfect sunset before my eyes. Don't be afraid to explore and go someplace new.
These spectacular places are a must see and will satisfy any wanderlust desires you have.
CALIFORNIA
Palm Springs
Desert Oasis:
This is the perfect place for the weekend getaway for many Californians escaping the overly busy and hectic lifestyles of the big city. This desert oasis offers an array of luxury spas, hiking, art, golf and more!
LaQuinta Resort and Spa: https://www.laquintaresort.com/health-and-fitness/spa-la-quinta/
From a rejuvenating massage to lingering in the pool, this place will have you saying wow. I felt renewed, relaxed, and rejuvenated after the day I spent here. Located in LaQuinta, California near Palm Springs, the golf course; PGA West by Greg Norman is located a short distance away from the resort and spa. https://www.laquintaresort.com/golf/greg-norman-at-course-pga-west/
Art Smith Hiking Trail
This hiking trail will leave you with feelings of wow and awe as it is rated as difficult and the complete trail distance is 12.2 miles and is 2641 feet high. However, the first couple miles are a gradual climb and mostly easy trail paths. We hiked about 2 miles the day we explored this trail and enjoyed the quiet, serene landscape, and the scenic views overlooking Palm Springs area. Art Smith trail is located in the Santa Rosa and San Jacinto Mountains There is a visitor center located directly across highway 74, which has a vast array of information and another hiking trail.
San Diego
The adventure choices are endless in this magnificent city of sunshine and fun!
Petco Park and the San Diego Padres will have you and your game jerseys ready to take on MLB baseball fun. However, caution: the baseball can be difficult to watch as you are sitting in a stadium surrounded by the city landscape, airplanes arriving, and an eye catchy backdrop of the Pacific Ocean.
Mt. Woodson and Potato Chip Rock
This beautiful hiking trail is a very popular trail in the San Diego area. This was a beautiful trail and we were complimented with a gorgeous sunny afternoon too. Parking for this trail is along CA-67; and it can be busy so be careful and be patient in looking for space to park. Most of the time there is a line for people to take their turn standing on the Potato Chip rock for photos, and it makes for a pretty cool snapshot of yourself sitting on that thin, narrow looking piece of rock.
La Jolla Cove is a magical place and the home for surfers catching waves and the place where weddings happen.
La Jolla is a quaint community where you'll find art galleries, trendy boutiques, and seals living at the beach. You will also enjoy Torrey Pines hiking trail that offers some of the most stunning views and landscapes of the California coast.
HAWAII
Honolulu Paradise
The islands of Hawaii are an adventurer's dreams come true! Beautiful scenic landscapes, white sandy beaches, surfing, waterfall hiking trails, and so much more! Some only dream of visiting a beautiful tropical island with warm blue-green waters, red-orange sunsets while listening to the soft tones of a ukulele. Hawaii is not only a place that offers the beauty of the oceans and challenging hiking trails, but it represents a way of life and culture. This culture is one that consists of living free and having an open mind. Appreciating the ocean and the environment that surrounds you, from the moment you step off the airplane, you will feel the positive good vibes and energy. Here are a few hot spots that you may want to add to your travel itinerary.
Waikiki Beach: This beach is one of the hottest tourists spots in Hawaii today. Its history boasts of a place where at one time in history Hawaiian high society and royalty came to spend time.
North Shore Sunset Beach: Big Wave surfers' headquarters and cool surf shops and boutiques.
Hand Made Soap Factories: Enjoy a tour of the factories that make hand made natural soaps. The soap leaves you with a clean refreshing feeling and the numerous soap scents are refreshing aromas!
Waimano Pools and Waterfalls hike: This hiking trail is worth every slippery muddy step as it is both challenging and rewarding! You will climb and descend, trek over several tree roots protruding from the ground, curves and turns, downed trees, until you finally reach the beautiful waterfall and pools. There are times where you may not see much water flowing over that waterfall due to lack of rainfall. But this hike will leave you with memories you won't soon forget.
ARIZONA
Scottsdale * Hiking Heaven
Hiking the smoldering the red rock cliff and boulder trails; hiking adventure and exploration:
Camelback Mountain: If you are looking for a weekend getaway and a moderate and challenging hike, you may be interested in experiencing Camelback Mountain. This trail includes a little bit of everything such as gradual inclining gravel paths, switchback steps, boulder and large rock areas, and a spectacular 360 view at the summit! Oh, don't forget on those extra hot days, it's a good idea to wear your gloves as the boulders and hand railings are as hot as fire to the touch! But if you hike this trail in the Fall and Winter seasons, be prepared to deal with crowds.
Sedona * Devil's Bridge
This hiking trail is one that consists of full scenic landscape views nearly the entire route and is located nearby the beautiful town of Sedona, Arizona. The name sounds more frightening that it really is. Devil's Bridge is the hike that offers a shorter or longer hiking route to get to Devil's Bridge, whichever you choose to enhance your own experience. This hike is rated as not very difficult, and on the easy to moderate scale. The trail is mostly a simple, smooth, clear paths, and very scenic. Together with quiet, peaceful, and not too extreme heat, it's a perfect setting for hiking to Devil's Bridge.
FLORIDA
Beach Beauties
Bradenton Beach: Bradenton Beach can be found located on Anna Marie Island in Bradenton, Florida. From I-75 go take the exit for SR 64 and go west and you will run directly into the parking area for this beautiful beach.
Siesta Key Beach: Siesta Key Beach is located on Siesta Key in Sarasota, Florida. This is the beach of all beaches! It's the beach you dream of with wide spaces of beautiful white sand of which the sand is cool to the touch. . The sand is made of Quartz and has a luxurious and cool feel to the feet! This beach is a must see when you visit the state of Florida.
NORTH DAKOTA
Bismarck
This moderately sized small town is full of farming, culture, friendly people, history and a hometown feel. Most people don't think of North Dakota as a place where stars are born. You might recognize the name of actor Josh Duhamel or NFL quarterback, Carson Wentz as both of these talented stars are from North Dakota. The city is not only home to a few popular stars, but is also a quaint peaceful place to live or have lived for us common folk. Together with a charming downtown and forever sunsets, Bismarck offers activities such as an annual rodeo, harvest fests, street art, a large swim park, and a historical heritage center, and much more, learn more here: http://www.NDtourism.com.
Mostly, the people who live here are just common folks who work hard, care about others, and enjoy time with family. Speaking of family, I recently had the opportunity to visit the North Dakota Heritage Center along with my mother and her friend. We enjoyed learning about the native Americans who populated the area many years ago, as well as the prehistoric creatures that lived across the plain states as well. Some of the fossils displayed at the museum are actual findings as the one below with the attempt to preserve it and the dirt it was discovered in. The center offers static and rotating exhibits as well as a café inside; The James River Cafe. Check out more information here: http://www.statemuseum.nd.gov
Theodore Roosevelt National Park
This national preserve is packed with rugged beautiful buffs infused with red and sand colored landscape where you can get up close and personal with wildlife. The North Unit is a 14-mile scenic drive through badlands where you might encounter bighorn sheep, elk, and even wild buffalo. This is the perfect destination for those looking for adventure, history, and bison! There is so much more to see and explore, learn about this gorgeous national park here http://www.nps.gov/thro.
Want to have your photos featured on WhereGalsWander and be part of our Travel Tribe?
Click here or go to https://wheregalswander.com/upload-photos/
Want to learn more about FitLifeandTravel?
Check her out here:
http://www.twitter.com/Fitlife360 (@Fit_life360)
http://www.instagram.com/_fitlife360_
http://www.pinterest.com/fitlife360
https://www.youtube.com/channel/UC15TZw5nx4XWwgKtIZ9LHsg
http://www.facebook.com/@FitLifeandTravel
https://plus.googlecom/u/0/101455459029329206602