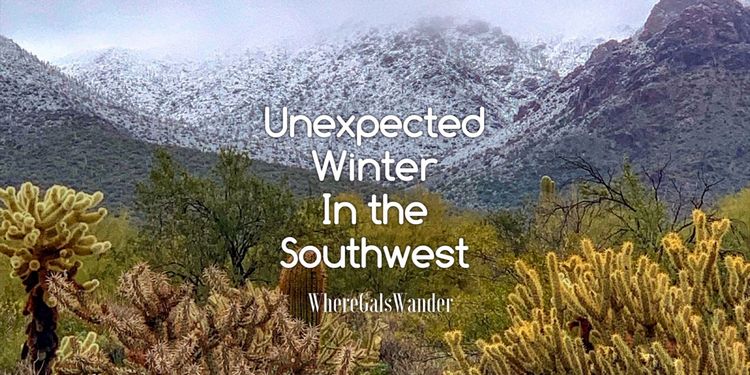 Winter 2019 has created an unexpected snowy scene in the Southwest. Places known for palm trees and cactus took our breath away when the snow transformed warm places with mountains into winter wonderlands. Southern California and Arizona found snowy mountains in the middle of coveted winter getaways.
Malibu, California was in the news this week, but not for movie stars or wildfires but because of snowfall. Scottsdale, Arizona, one of the warmest vacation spots in the winter, now became part of the state with warm summers and snowy winters. JD's family made snowmen in the heart of Arizona.
We raced to chase the fleeting snow. As unexpected as it came, it disappeared, But while it was here, it simply was striking in its beauty. Enjoy some of the captures of our quest for the snow. We didn't travel far for these adventures, but it took us to a place far from our usual landscapes. Our three destinations over the last 7 days include McDowell Mountains in Scottsdale; Castaic near Los Angeles and Payson in central Arizona.
McDowell Mountains, Scottsdale
The contrast between winter and spring, as the snow made a brief visit. Photos by JD.
McDowell Mountains, Scottsdale, photo by JD

Unexpected snow in McDowell Mountains, Scottsdale WhereGalsWander, photo by JD

Unexpected snow in McDowell Mountains, Scottsdale WhereGalsWander, photo by JD
Castaic, California "The Grapevine"
Heavy snow hit along the 5 highway traveling around the town of Gorman. We were able to travel as far up as Pyramid Lake, but the roads were closed after that exit. The heavy snowfall required an escort on the highways to make the winding pass through the highway pass known as "the grapevine". Snow even fell briefly on Thursday in my home town of Santa Clarita, in the valley about 15 minutes away. I gasped as I rounded one hill to see the playdough green hills lightly veined with snow spread around me. Rising in the back were the icy white peaks commanding the mountainscape. Pyramid Lake and Castaic area, photos by Zanne
Let's Build A Snowman
Equally impressive are the white peaks in Payson, Arizona. JD's sister, also a transplant from Chicago to Arizona, longed to play in the snow. Payson typically gets 18 inches of snow a year and is located in the heart of central Arizona, the closest to a true winter wonderland this week.
Four Peaks

Snowman and photos courtesy of JD's sister

The Snowy Mountains of Payton Arizona