Trending
About Us
The Gals Behind WhereGalsWander
What Is WhereGalsWander
. WhereGalsWander was started in response to the question "Is There More To Life?" #MoreToLife is our quest to connect with our surroundings. To inspire others to break out of their routine, to connect with others, with nature, and foster a spirit of adventure.
How WhereGalsWander Started
The Gals all lived on a small street in a suburban town outside of Chicago for almost 11 years, sipping wine on our back porch, watching the sunset and talking about all of the "what if's" of life.  Life then unexpectedly separated us and took us away from the place we spent most of our lives.  We called it getting "unstuck". We landed in new places and found ourselves taking advantage of everything new around us. By began exchanging photos and texts about our adventures, and soon WhereGalsWander was born to share our experiences more broadly. Once the wanderlust bit, we continued to pursue moments of connecting with new places, with the beauty of nature and with the challenge of going beyond our comfort zones.
Who Are The Gals
Zanne is the Founder, Editor,  Publisher and Chief Trouble Maker of WhereGalsWander.  You'll find her talking to trees, sipping whiskey, and bouncing between the beach, desert, and mountains every weekend around Los Angeles. She is checking off those National Parks one by one.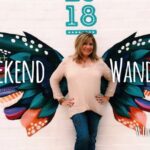 JD is an entrepreneur, career, and family-keeper, trekking through cactus trails in the Arizona mountains and living a glamorous life with her European travels and excursions throughout the US.
We still sip our wine and watch our sunsets.

Our Contributors
We welcome guest contributors! We feature those guest blogs on our Travel Tribe section. If you are interested in contributing content, please see our submission form for review. We feature content and photos that align with our WhereGalsWander vision.
Media Kit/Collaboration
We would love to collaborate with destinations, products, and brands.  Drop us a line to receive our media kit and talk.
Ever Wonder Where We Wander?
Follow us on
Facebook
Twitter (@galswander)
Instagram (@WhereGalsWander)
Hype
Mixx
YouTube
You can reach Zanne at [email protected]
WhereGalsWander
#MoreToLife