Inspire
How To Pet A Turkey, Hug A Cow & Cuddle A Chicken
The Gentle Barn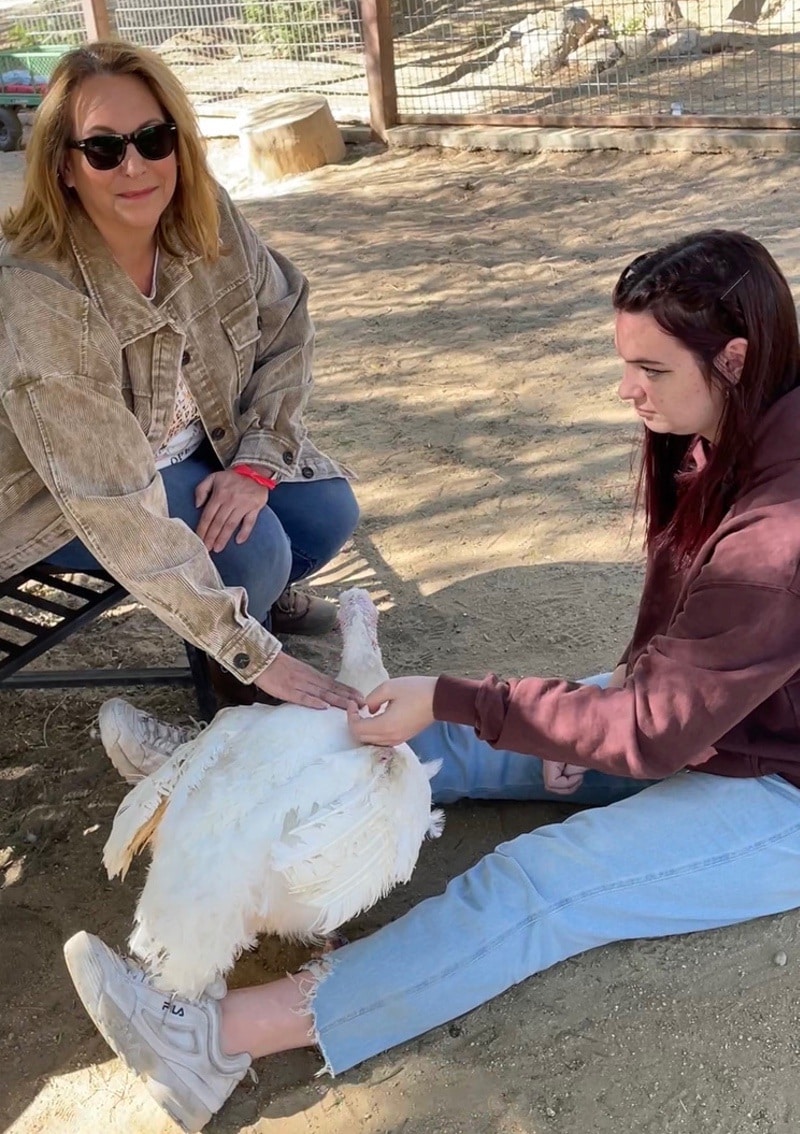 It's Thanksgiving, and one of the things I am thankful for this year is learning how to pet a turkey, hug a cow and cuddle a chicken. My trip to The Gentle Barn in Santa Clarita was not only educational, but extremely therapeutic.
The Gentle Barn has three locations in the US. They are located in Santa Clarita, California; Christiana, Tennessee and Dittmer, Missouri as well as looking at opening a location in New York. They are a rescue animal sanctuary, taking in animals who are abused, neglected, in danger or abandoned. Learning about The Gentle Barn, one thing I read really resonated with me: "We have lost our connection to animals, to nature, and most of all, to ourselves." But the magic of this place isn't just rescuing the animals, it's how the animals can also rescue you. Let me explain:
How To Pet A Turkey
I was all about seeing the cows and horses, but one thing that really struck me during my visit was my experience with Sun. Sun arrived in 2015 and was rescued from a slaughterhouse. At The Gentle Barn, each animal has a dedicated volunteer handler. As you approach each animal, the handler will guide you on how to interact with the animal, do's and don't's specific to each animal's experience and personality. My daughter followed the instructions and sat down on the ground near Sun, and slowly opened her legs, making a space for Sun to waddle up. The turkey snuggled right in, and as we began to pet her, she closed her eyes and began to make a purring sound! We stroked the soft feathers and Sun bobbed her head, eyes still closed in a perfect state of relaxation. Soon we found ourselves falling silent, in a peaceful, meditative state, matching Sun's breathing. Until the chicken came over to see what was going on.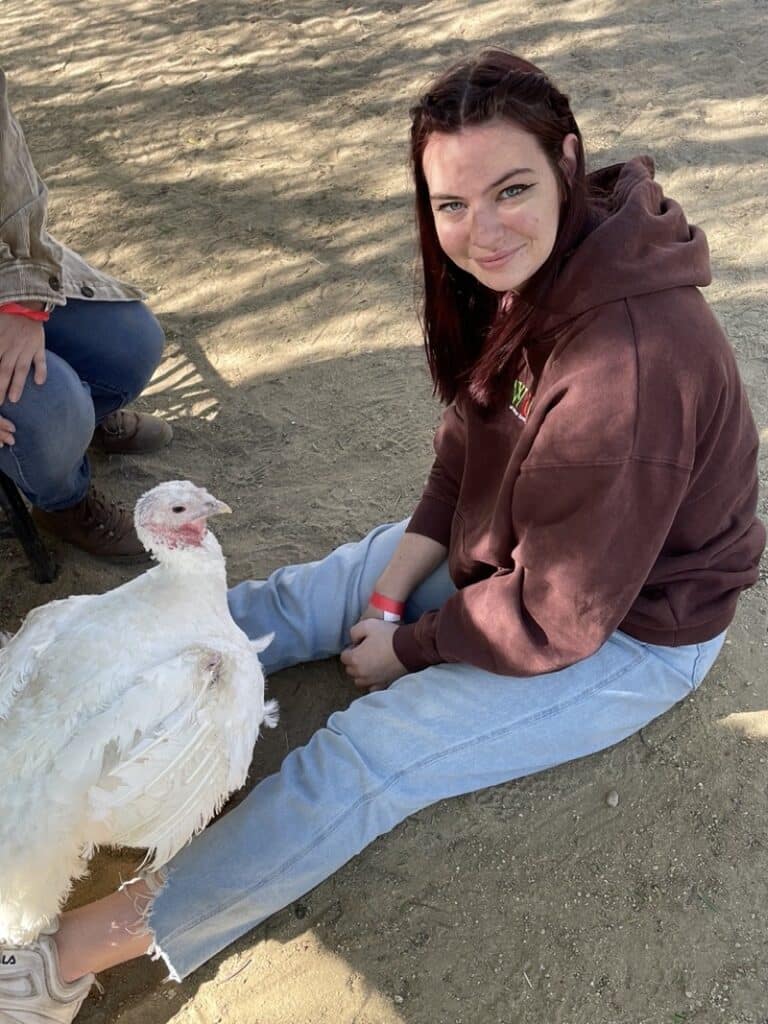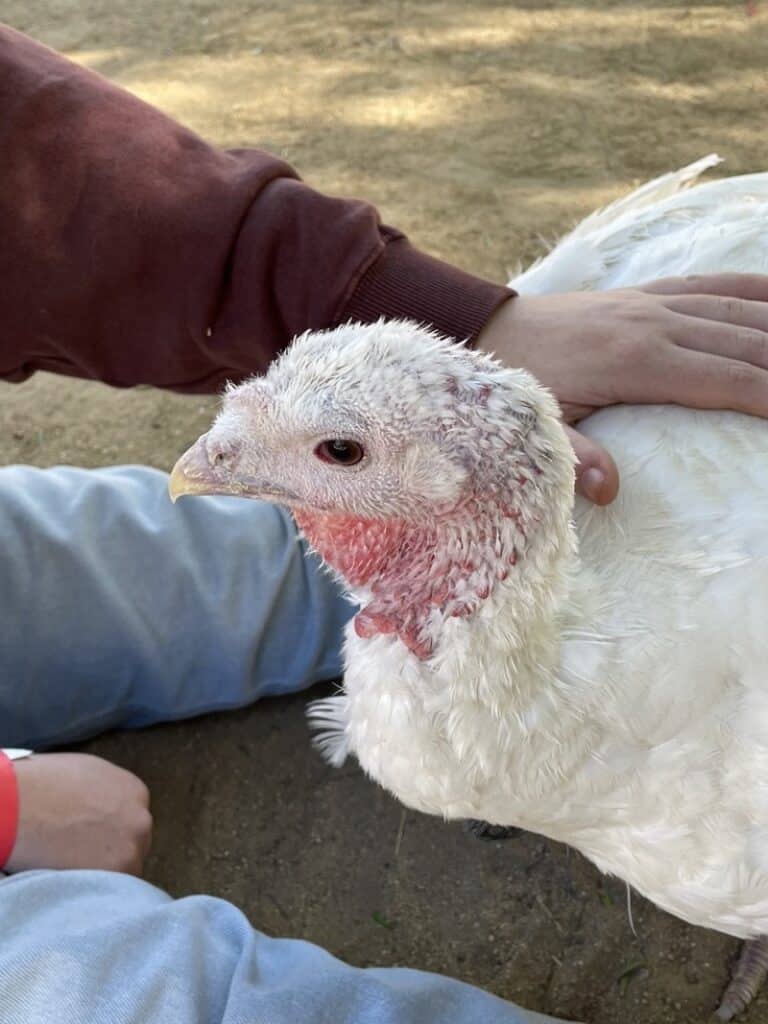 ---
How To Cuddle A Chicken
It's funny how quickly you start to learn each animal's personality as you interact with them one on one. The chicken, Tulip, was very curious, but didn't want anything to do with being touched. Then Meep got into the action. Meep was brought to the barn at just one day old. The owners took Meep in, literally, into their home and the chick slept with them under the covers. He is very outgoing, and loves people. Meep can also be seen riding on the backs of the pigs and sheep. Meep just comes bopping over, and you sort of scoop him up. Below are the photos of Meep and his handler, as he sort of just climbed all over her, until he got comfy and perched on her shoulder. He snuggled into the crook of her neck, and also started purring!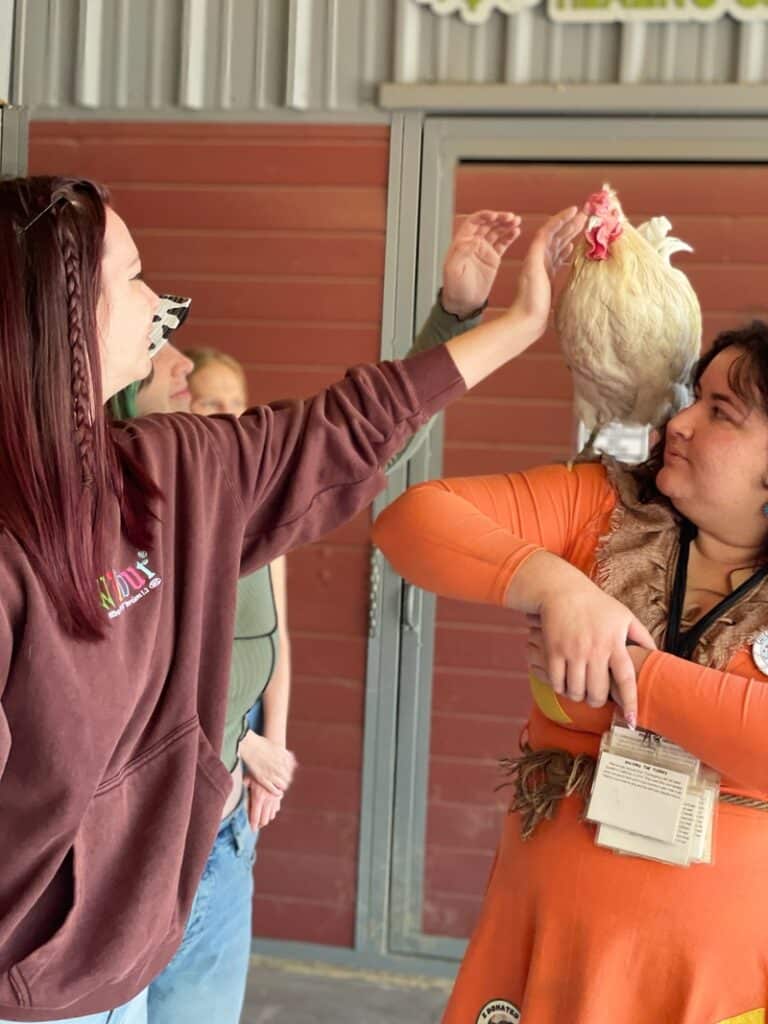 How To Hug A Cow
The cows are the stars of The Gentle Barn. We had been looking forward to this for a long time. I've shared how my daughters have gone through struggles of both physical and mental health, and we were curious to see how you how hug a cow. The first cow encounter was Madonna. Madonna is 3,000 pounds, so it's a little intimidating.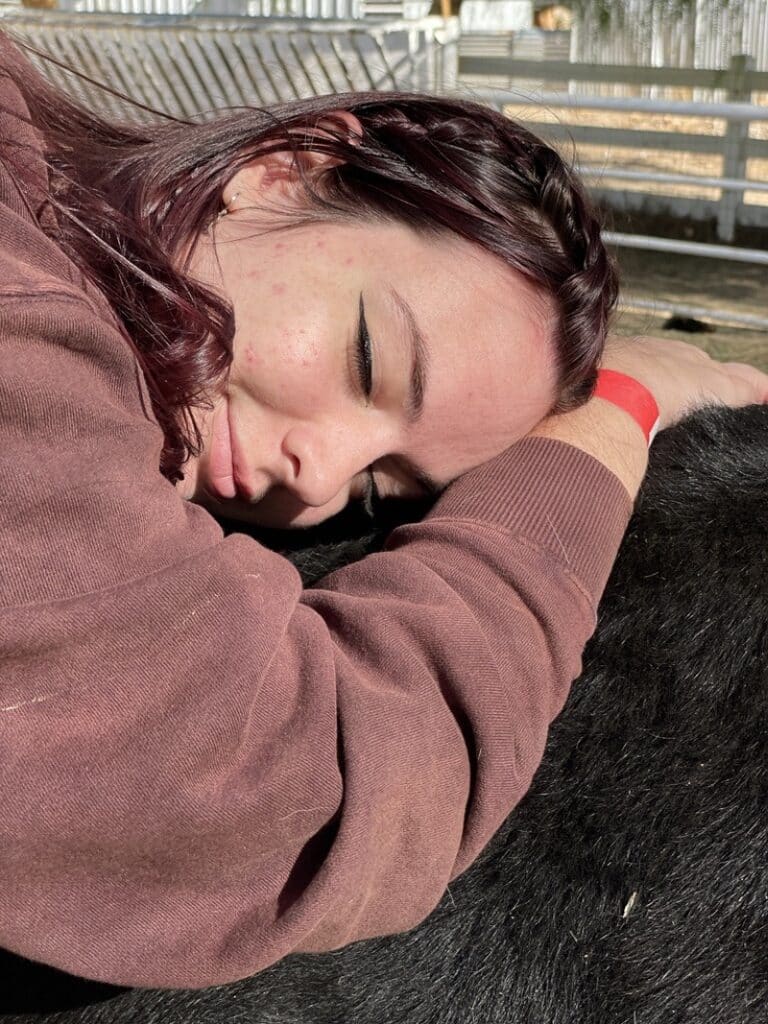 Here are the instructions on how to hug a cow:
Be careful and mindful of where your feet are, and where the cows feet are. You do not want a cow to step on you!
Stay away from petting the cows face and head, the ideal spot is along the neck and back.
Pet in long, sweeping or brushing motions along the length of the cow.
Snuggle into the cows shoulders, lay your head against them and lean in for the hug.
Stay still, close your eyes, and just feel the cow breathe in your embrace.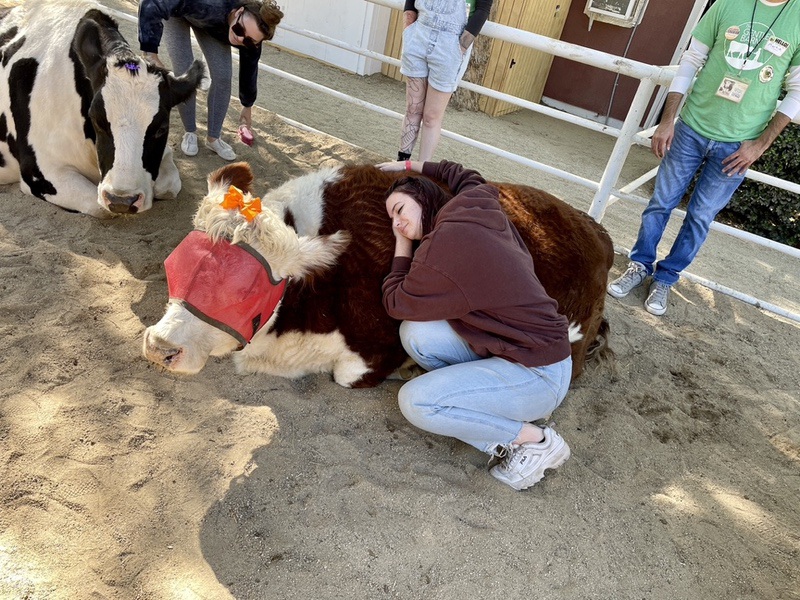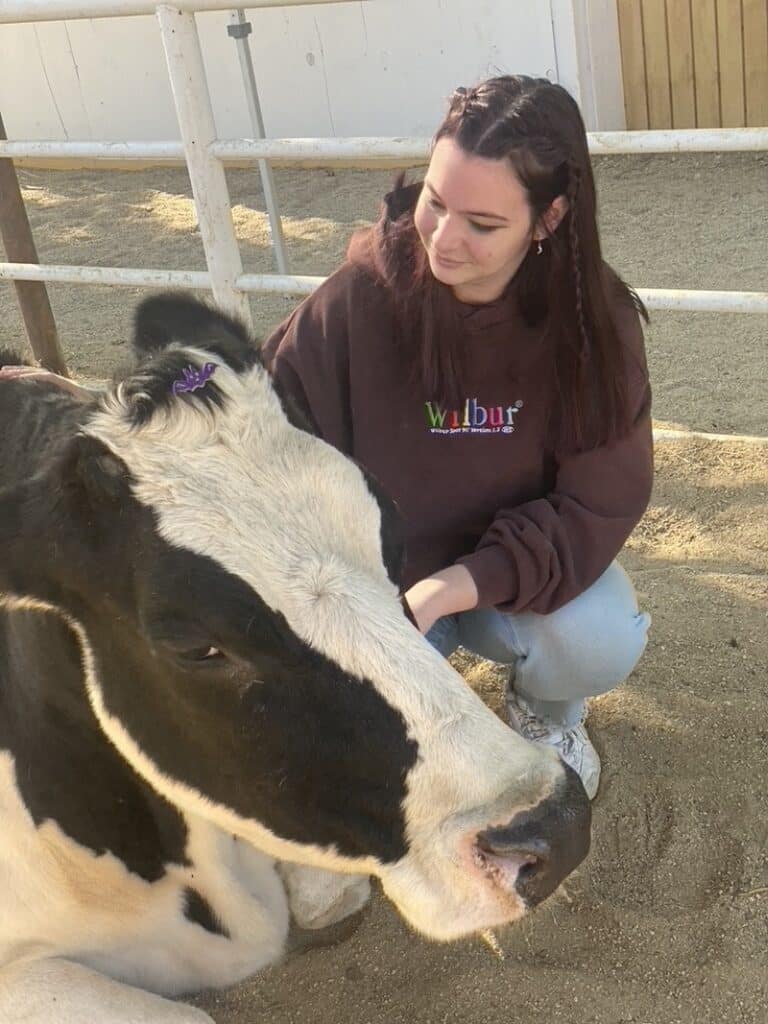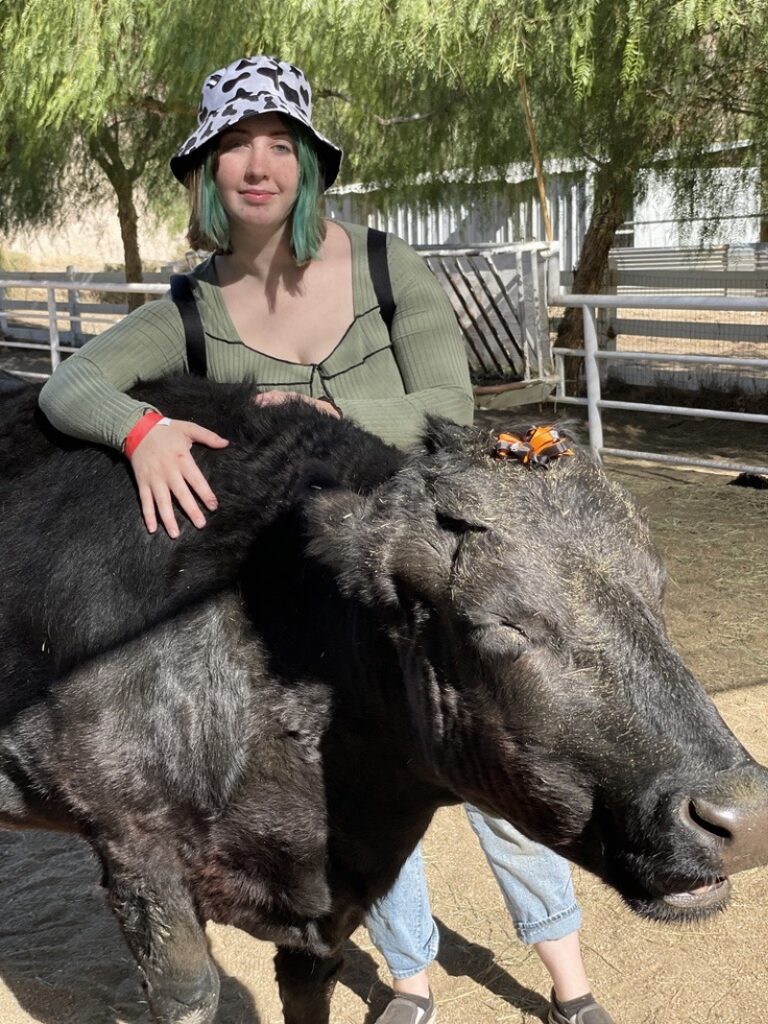 Benefits of petting a turkey, hugging a cow, cuddling a chicken
There is something about the sense of trust these animals give you as you interact with them. Their reassurance that everything will be ok. They reminded me of my mantra "What's Mom's Number One Job?"
When you hear their stories of being rescued, of having someone care for them, it's sharing a sense of hope and optimism. I have often heard stories of interacting with horses for PTSD, and it's like the animals can almost sense a human's fear, lack of joy, anxiety and a need to feel a sense of comfort. I would have never expected that from a turkey, but this is why we do what we do. We get out of our comfort zone to try new experiences, to explore, learn and inspire.
---
What To Know Before You Go Off To Pet A Turkey and Hug a Cow
The Gentle Barn requires advance reservations, and requires a set fee (donation). For our Sunday morning visit, it was $22.00 per person.
There are programs and other options from having a private therapeutic visit to sponsoring an animal.
Wear comfortable shoes, must be closed-toe. You will be walking through sand, dirt, hay and amongst the animals.
Wear comfortable clothing that you can reach, stretch, sit and even lay down in, that you don't mind getting dirty.
This is not a petting zoo, or a place where children can run free. They must be with adults, under close supervision, at all times. It is important to listen to the handler so the animals, and the people, do not get hurt, bit or stepped on. Make sure you understand the instructions in how to pet a turkey, hug a cow, cuddle and chicken and interact with the other animals.
Bags, purses and strollers are not allowed in some areas.