Connect
Trending
Not Your Average Online Love Story
Meeting on AOL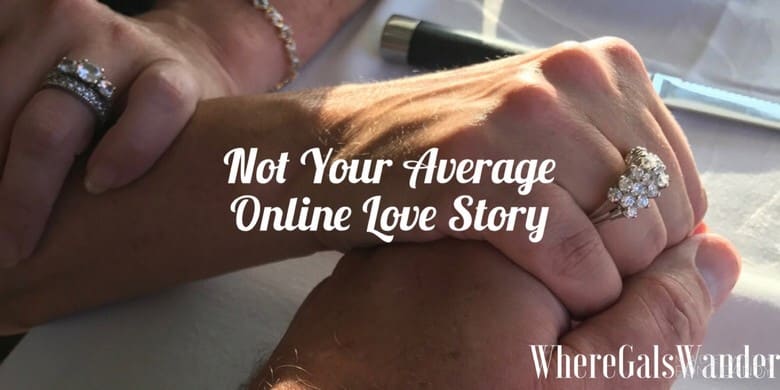 Meeting Online on AOL
It's ironic that my husband and I are both bloggers given that we met back in 1995 on this new little thing called AOL-that's the first sign this is not your average online love story. I was a graduate student majoring in Sociology, writing a paper on social interaction for this new fad called online chat rooms, and he was in IT, acting as a chat room host at night, just for the novelty. It certainly wasn't love at first type, as he was not at all my type, but that was the beauty of meeting sight unseen back then. I had no idea he was older, divorced with a kid, ex-military, corporate jock; all I knew I knew was I needed an interview with the host of the chat room, and it was obvious he was a giant flirt (eye roll, as I was also a women's study minor). All he knew was a young college student (again, eye roll). But the three-month social experiment "meeting" people in this room, turned into a 30-minute phone interview that lasted well, hours.
Destiny Spun Its Creepy Wheel
Destiny spun its wheel, and the very next night, I found myself driving from DeKalb, Illinois an hour to Schaumburg to go to this club with my roommate. I was waiting at the bar, for what seemed like forever, trying to get the bartender's attention. As I waited, this VERY tall man next to me was telling a story….the very same anecdote he told me on the phone the night before. So, playing it cool (or just freaking out) I casually glanced up (he is 6 feet, 6 inches) and checked him out. I got my drink and headed back to my table.
Back In The Chat Room
So the next night in the chat room, I Instant Messaged (IM) him and said: "I had this dream and you were at (bar I was at last night) and you had blue eyes and were tall and wearing this striped shirt." Of course, now he is freaking out. Turns out he lives in Schaumburg and was at that bar last night and was wearing that shirt! So I simply explain that I am psychic. His immediate response is then I must see that we have a future together and of course, that makes me laugh. He asks me what I look like and I say that I am really just like Yoda, short, wrinkly, a little green and I am actually a man. He asks me to marry him anyway. We laugh, and he mentions that a bunch of the people from the chat room are actually meeting at that bar next week, and I should go. I say no. But I then go anyway.
Meeting in Person
So our not so average online love story was now IRL. He was getting ready to shoot pool and take his shot, and as I walked by I said "I hope you miss" and just kept walking. He laughed and came over after the game and said: "You must be Zanne, my future wife." He is super conservative and well, yuppy looking. I have long purple hair and tattoos. I don't think I'll ever see him again.
Kiss The Bride
By this time, my project was over, I am wrapping up my graduate courses, but I made friends through the chat room and at that bar that night, lifelong friends I still talk to today. We chat online, and at parties, and talk for hours on the phone for a few months. One night he asks to walk me out, and I agree. I get to the door and he lifts me up onto a step, facing him and asks: "Don't I get to kiss the bride?" and fast forward, 6 weeks later we are moving in together. At 23 years old I am now co-parenting his son who joins us in our little apartment. 2 years later he proposes, and we married in 1997, now with two more girls (who started their own travel blogs), our dog Molly, a cat and three blogs. Read about our celebration of 20 years of marriage in our romantic weekend getaway to San Diego.
We continue our online love story in our non-average way. You can listen to our podcast and watch our YouTube videos as California Exploring where Greg from Suburban Men and Zanne from WhereGalsWander talk about our adventures, our family life and how it all comes together.