Explore
Trending
Mountains Are Better Than People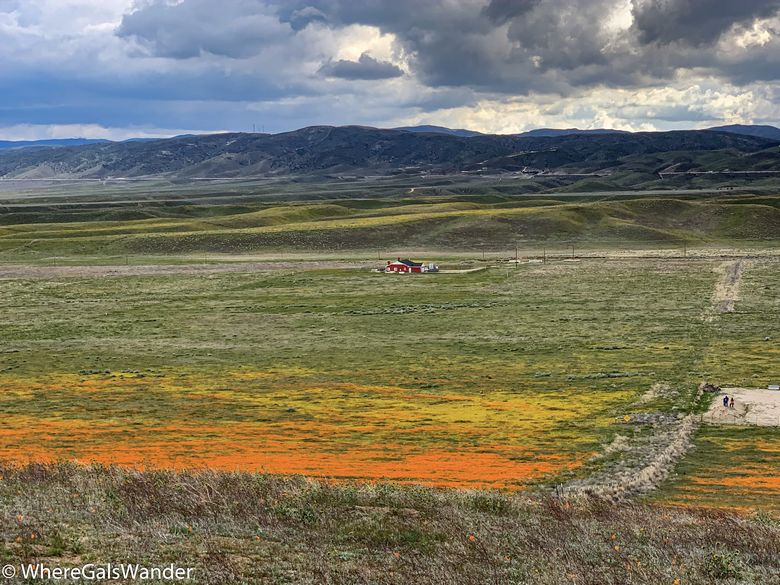 Mountains are better than people. If the mountains are calling, I will answer. If people are calling, it goes to voice mail. I prefer talking to trees and I prefer nature to bring me peace of mind. The only thing that kept me sane was to do some hiking therapy, but now almost all of the trails around Los Angeles are closed due to the COVID pandemic. We are in a weird time right now where in order to come together, we have to stay apart. The #GetOutside hashtag is now replaced by the plea to #StayAtHome.
But for now, it's a matter of life and death. I have no more words of comfort to give my kids, as they watch the news, read social media. We all just crave a normal day. The mountains are better than people because they aren't a reminder every day of wearing masks, washing hands and hospital rates.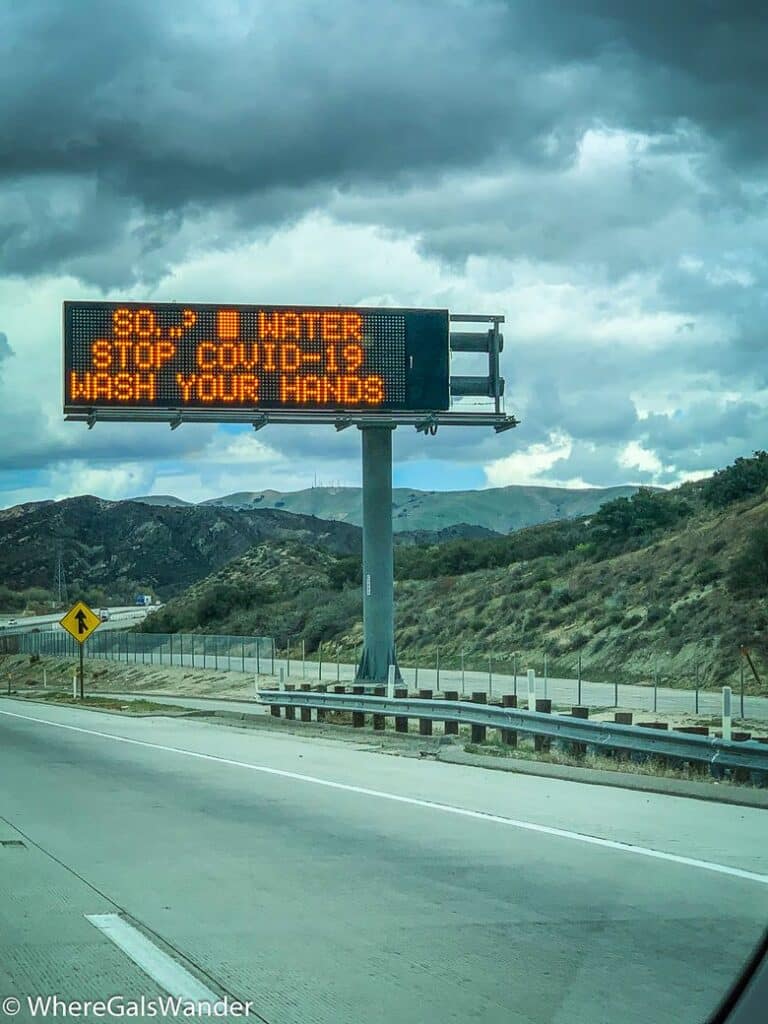 The Quarantine
It's Day 9 of quarantine and social distancing caused by the COVID-19 pandemic. Do I miss talking to anyone? No, not really. I work in Human Resources so I talk to people all day long and it can be exhausting. I want to hear something rather than background music and the light buzz of technology. Mountains are better than technology and speaking of which…
Why Mountains Are Better Than People
I also just accidentally washed my mobile phone I use for work in the washing machine. This definitely cut off most of my human communication. I haven't had a decent cup of coffee in forever (meaning coffee not made by me). It's rained every day for the last seven days-here in LA (that's right, LA). And mostly, I'm tired of looking at my walls, my family and the mess that comes with all of us being home together. My kitchen looks like a page out of an "I Spy" book.
When I'm out in nature, I'm not thinking about how messy my house is. I'm not worried about what my hair looks like (you probably already noticed this from the photos I post on Instagram). People ask me why I don't smile. Nothing annoys me more than people telling me to smile. Mountains don't tell you to smile, they don't care. If you know me well, you can tell when I'm happy because my eyes light up with joy and I may burst out with an easy laugh.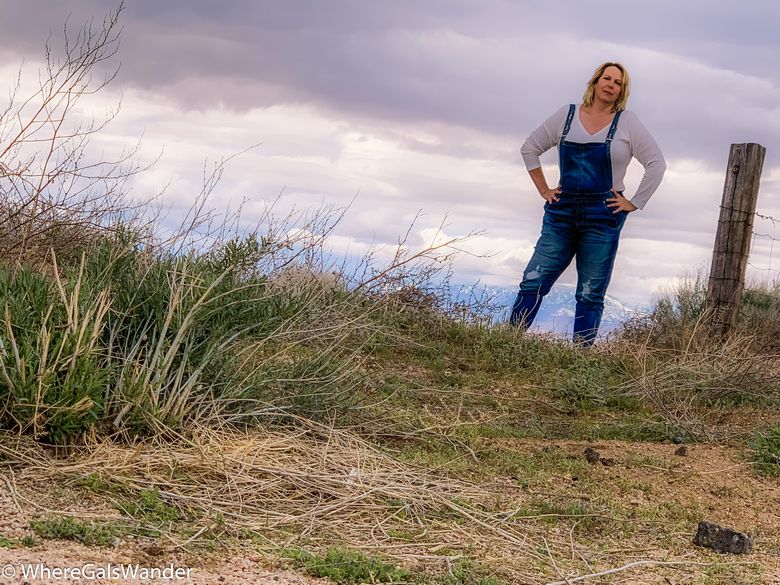 Mountains understand that I don't go hiking to smile, I do it to push myself. I don't lay down in the poppies. Please don't lay down in poppy fields for that Insta-worthy photo. 1) it's rude, ruins the fields and people are stupid 2) there are snakes and people are stupid and 3) I want to see rolling carpets of wildflowers down the hills, as many as there are stars in the sky-pure and uninterrupted.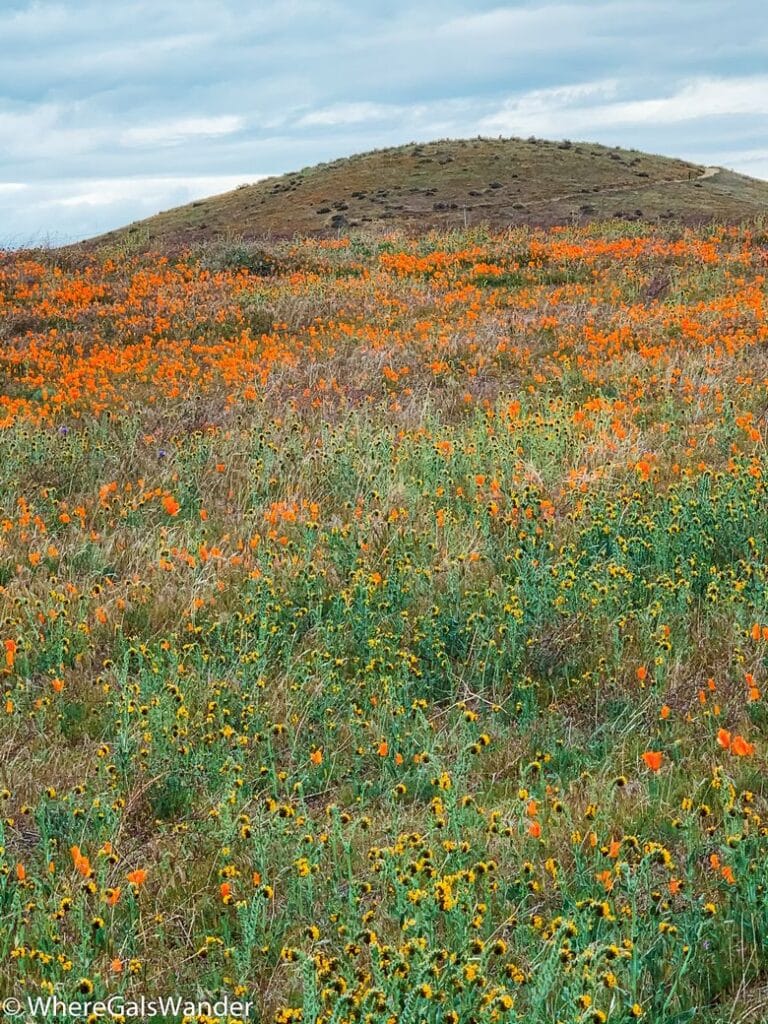 Saturday Drive
So on this particular Saturday, we decided that the next safest place of containment next to our home would be our car. We always love driving up to see the snow on the mountains, regardless of the reason, and this change of scenery would do us good. It was cold, it was another rainy day, we weren't going anywhere near people. So I sat back as my husband drove, feeling safe and secure and…
"Wanna go up the 138?" he asked.
"Sure," I responded, without thinking
"Great," he said turning off on the exit to the Pear Blossom Highway. "This is the one you don't like driving on, right? Because it's one of the top 10 deadliest highways in America?"
This is why I like mountains better than people.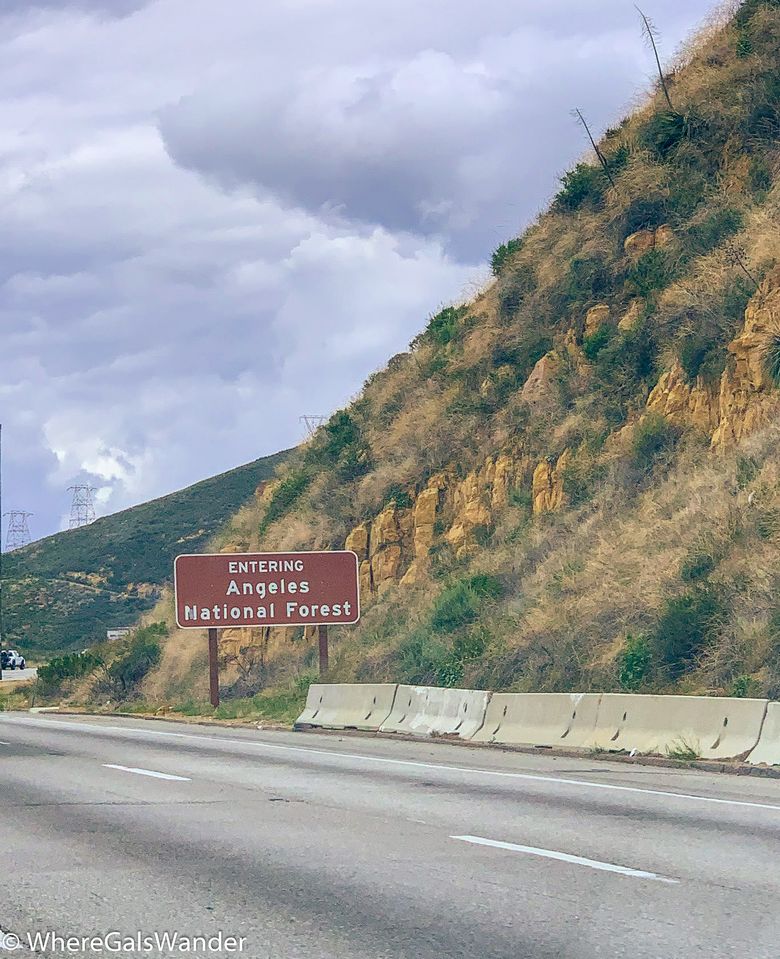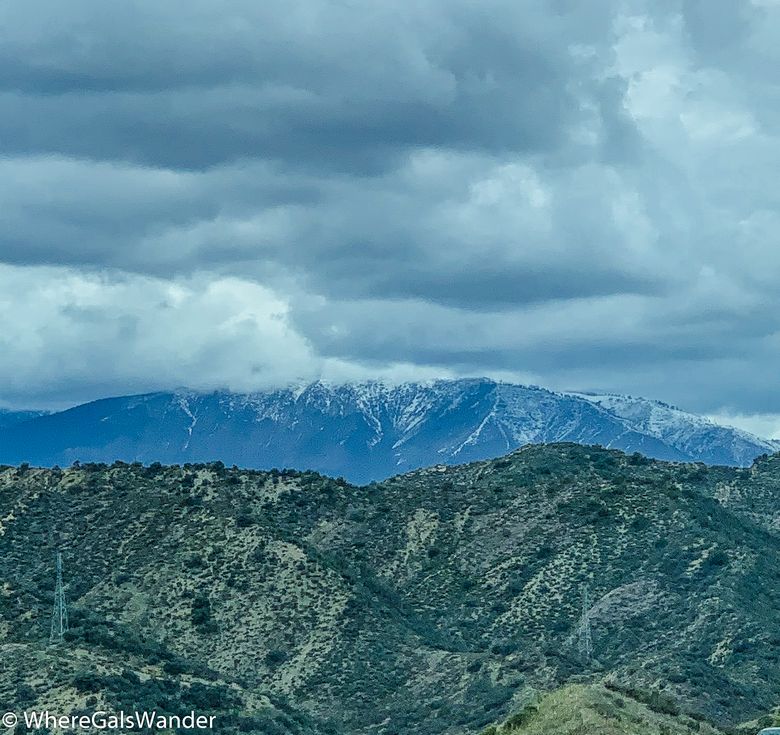 The Poppy Fields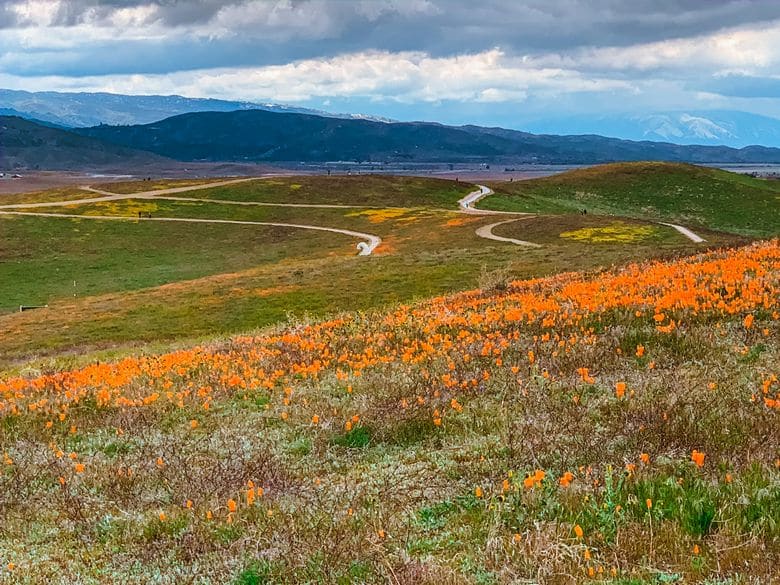 When we first talked about seeing the poppy fields, we talked about going to our usual spot. It is outside the actual Antelope Valley Poppy Reserve, where we typically find beautiful fields of poppies and other wildflowers. We checked out that location, but the orange river of flowers called us closer. We followed it running right up to the edge of the preserve. Note that I was not planning on being out of the car for long. I brought no jacket and had on overalls and leather cowboy boots.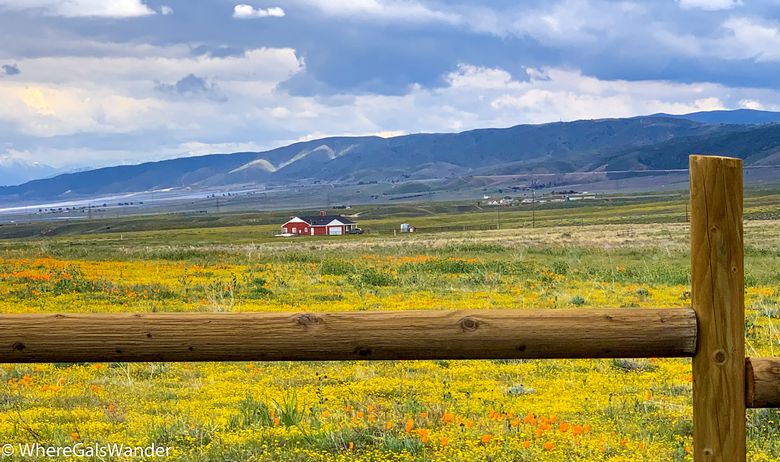 We originally thought "let's just pop in and stay on this side of the reserve". But it turned into "just a bit up the hill." I wanted to run like crazy through those fields. The beauty of seeing these rare blooms each year makes spring feel real to me. "Your eyes are dancing like a little kid," my daughter said to me. The skies began to clear up and the sun came out.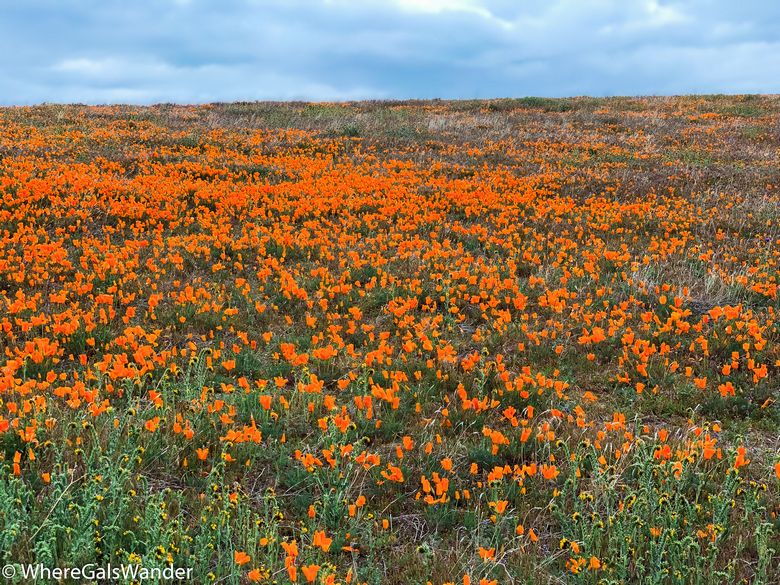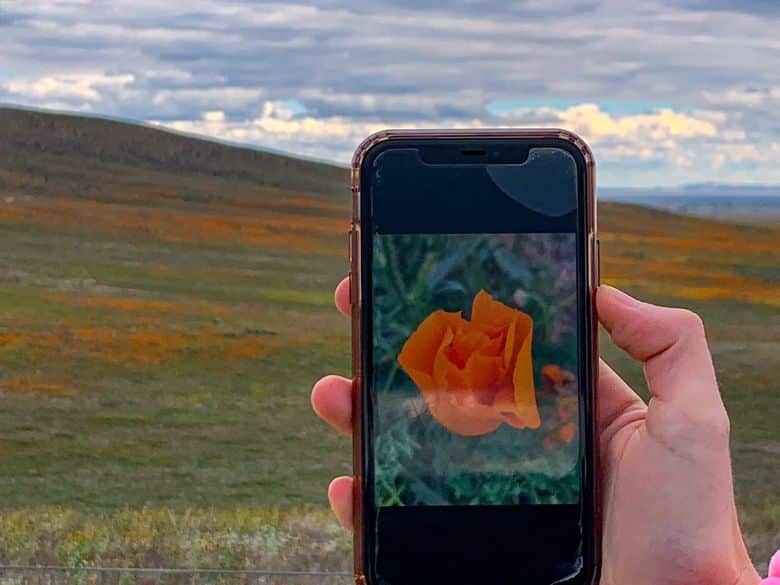 The Poppy Spell is Broken
We made sure to stay away from the packs of hikers we could see off in the distance. We kept our 6-foot social distancing in place when we did encounter others. It was still raining so that kept everyone at home that day. We had the hills to ourselves for quite some time. When another group of four arrived, all I could think was "what if they are infected? What if they infect us?" and the beautiful scenery and all of the peace and joy I felt just evaporated with the presence of others. We quickly left before others could arrive, but the spell was broken.
The Drive Back
We spontaneously stopped alongside the road peppered with Joshua Trees. Although it was part of a California State Park, we stayed along the road, not venturing in. Just marveling at the snow-capped mountains peeking through the Joshua Tree branches.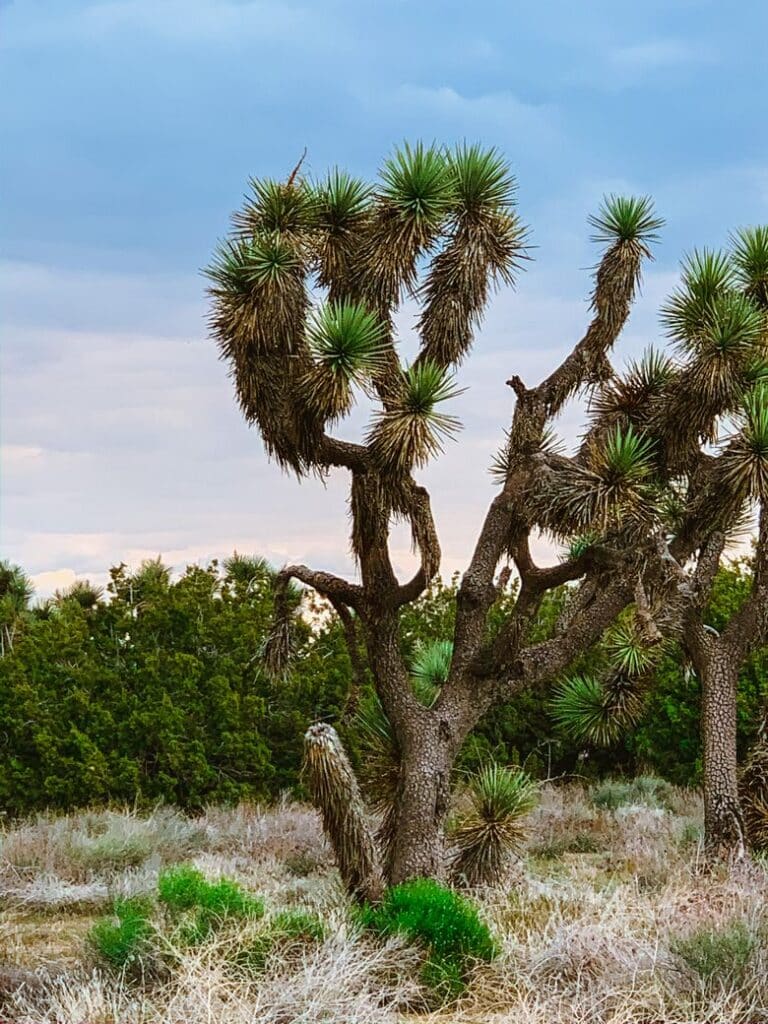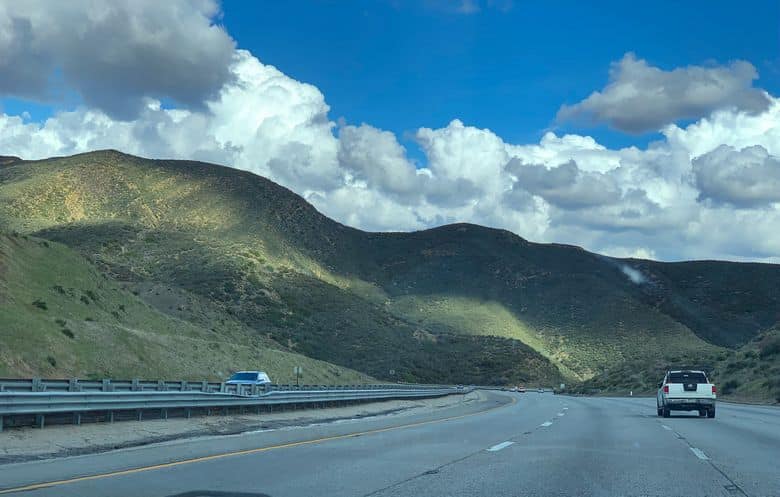 The sun came out on the drive back to our valley. It shone brightly on the grassy hills and valleys, giving a sense of hope once again that this storm the world is going through right now, has to run out of the rain eventually.