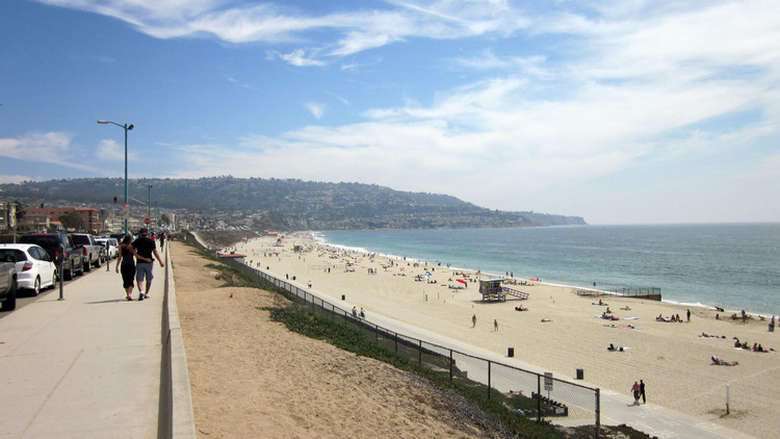 As many of you are already aware, I recently relocated from Chicago to Southern California. One of my goals after moving was to explore and experience more of this great nation. Not long after I arrived, I received an invitation for an Urban Guy's Getaway and my first destination was locked in. Torrance, California as the guest of Discover Torrance. Yes… Torrance.
Now, many people have recommended must-see destinations here in the American West, and not once was Torrance mentioned. However, I do have a little history with Torrance. When I left the Air Force and left my last posting in Australia, I interviewed and received a job offer with a company based in… you guessed it… Torrance. I declined the job offer, returned to Chicago and got on with my life. I was definitely intrigued to see what I may have missed out on.
For this adventure, Volvo USA and DriveShop provided me with a 2016 Volvo XC90 SUV. Stay tuned for a full review of the XC90 later this week, but let me just say DriveShop had to pry the keys out of my hands when it was time to turn it back in.
Accommodations
My accommodations for the week were provided by the Torrance Marriott Redondo Beach. Centrally located, you are only minutes away from the beach and the plethora of craft breweries that are exploding in Torrance. As an added bonus, I returned to my room the first night to find a gift basket with a pint glass, bottle opener and a selection of local craft beers. Nice touch!
Torrance Beach
After grabbing a quick lunch and meeting my fellow bloggers, we headed for the beach. SoCal beaches can be hit or miss, but Torrance Beach was fantastic. Clean and with plenty of easily accessible parking. Definitely a rarity in SoCal. Our hosts had arranged for us to meet at Perry's on the Beach for a little bicycle ride along "The Strand", a 22-mile coastal bike path stretching from Torrance Beach up to Will Rogers State Beach in Pacific Palisades and back again. After our ride, we met back at Perry's where Chef Robin had prepared an amazing snack table for us. To top things off, she prepared chocolate espresso milkshakes that were out of this world.
Brewery Tour
Torrance is all about beer. As I mentioned, amazing craft breweries are plentiful in Torrance. We arranged to take a tour from LA Beer Hop. Owner Hal Mooney was our guide and drove us to check out Red Car Brewery, Smog City Brewing, and Monkish Brewing. Red Car Brewing is located in an old Pac Bell building which provides plenty of charm. One surprise was to see hops growing right outside of Smog City. Talk about fresh! Not only was it great to have Hal drive us, be he is also a Certified Cicerone®. The beer world's version of a wine sommelier we learned a ton about the brewing process and the many different flavors and types of beer.
Food
There are no shortage of dining choices in Torrance and trust me, we tried quite a few of them. From steele cut oatmeal at Old Torrance Coffee & Tea to spectacular burgers at Red Car Brewery to delicious pasta at Gaetano's. And what might possibly be the best thing I have ever eaten. Brioche French Toast Logs with Smoked Maple Bacon Syrup at . Located in the massive Del Amo mall, Great Maple should definitely be on your radar if you are headed to Del Amo for a shopping trip.
Downtown Torrance
Walking through downtown Torrance was like stepping back in time. It's always a bonus to find a shopping area with eclectic little shops and not a chain store in site. We all enjoyed the cool antiques and replicas in the W.W. II Store.
Toyota Museum
Being guys and having a car blogger with us, I knew we would spend quite a bit of time at the Toyota Museum. If you like cars, this is a must see. Their collection includes a history of Toyota vehicles and one of the best racing car collection I have ever seen. This includes celebrity racers driven by Tony Danze, Cameron Diaz and Karl Malone. The futuristic concept car from Minority Report is also on display. My personal favorite was the 1961 FJ25 Land Cruiser.
Western Museum of Flight
Our final stop was the Western Museum of Flight. Located at the Torrance Aiport, the museum is truly a labor of love in keeping the history of flight alive. Manned by several retired veterans, they kept us entertained by sharing the stories of their aircraft including a Northrop YF-23 that lost out in the competition with the Lockheed Martin F-22, an F-14 Tomcat, a Koren-War era F-86 and a Harrier Jump Jet that is currently undergoing restoration.
It was a whirlwind couple of days, but Torrance definitely exceeded all my expectations. If you would like more information on a getaway to Torrance, visit DiscoverTorrance.com or follow them on Instagram, Twitter and Facebook
Interested in being a guest contributor and joining our Travel Tribe? Click on Be A Guest Contributor or email Zanne at [email protected]
For more info on Suburban Men, check out their social media below: