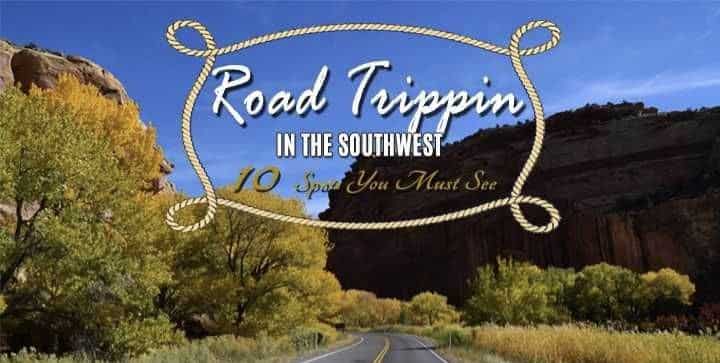 One of the most spectacular parts of the country in the United States is in the Southwestern corridor! Together with the incredible rock formations, red rock cliffs and canyons, open desert landscapes and the earth's energetic vortex, will have you saying WOW over and over again.

There are some unbelievable landscapes, forests of cactus, rolling hills, and even caves that make the perfect setting to experience pure beauty, peaceful, and serene moments of time that moves you. The southwest areas might be considered a photographer's dream because of the caption opportunities, lighting, and sunsets.
Travel Guide to Road Trippin' in the Southwest:
The areas you can consider a part of the American Southwest include states such as:
Utah
Arizona
Nevada
California
New Mexico
Give or take a few others.
Now the southwest isn't just a place for photography enthusiasts, but it's for anyone who is in love with nature has an appreciation for the land, and the desire to explore places they've never before seen.
I've spent most of my adult life (over 20 years) living in the southwestern region of the US and hold a special place in my heart and soul for that part of the country. Here are some of the places I've experienced and think they are must-see places! Take a look:
Utah
Salt Lake City
When you arrive into Salt Lake City, Utah; you will see the layout of the city and how perfectly it sets at the base of the neighboring beautiful mountains. Take a walk through downtown in Washington Square and enjoy City Hall as this historical structure was built in 1852. If you are lucky enough to visit during the Fall season, you will be presented with gorgeous colors of leaves on the trees and beautiful sunsets.
Arches National Park
Geologists call this the underground salt bed from 300 million years ago and is a result of extreme temperatures and underground moving salt beds. It is the ultimate spectacle for over a million visitors and sightseers in recent years.
Read More: https://fitlifeandtravel.com/2018/05/07/my-odyssey-into-the-aches-canyonlands-of-utah/
3. St. George
A beautiful small town making for a great place for lodging if you are visiting a couple of the National Parks in the area. The pristine streets make for the perfect canvas of unique street art with neighboring beautiful mountains as the backdrop.
Arizona
Sedona
The Devil's Bridge. The name sounds more frightening than it really is. Devil's Bridge is the hike that offers a shorter or longer hiking route options to choose from. The dust infused red-orange sunsets, smoldering red rock canyons, and blue skies with puffy white clouds will leave you speechless.
Read More: https://fitlifeandtravel.com/2018/08/22/dance-to-devils-bridge-sedona/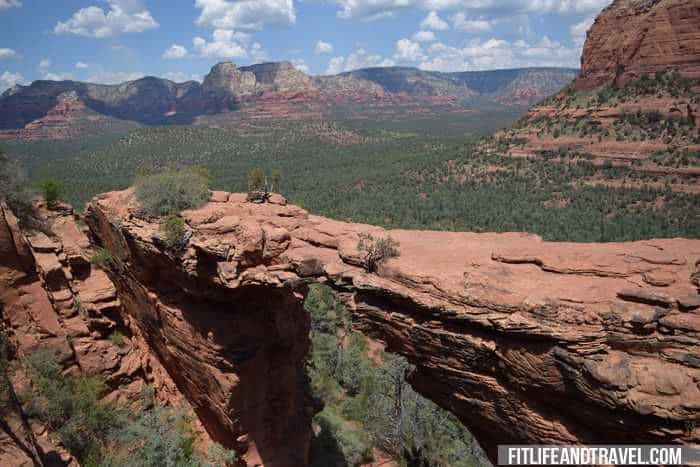 Saguaro National Park
A beautiful, serene and peaceful park that offers insights into the early days of western settlers as the area around Tuscan began to boom. The hiking trails that are only accessed by foot or by horseback.
Nevada
Valley of Fire State Park
The fiery looking red sandstone cliffs were formed as a result of shifting sand dunes during the dinosaur age. The earth moving, uplifting and erosion have now created what you see today, the present landscape. It is a place where historic native peoples roamed and left petroglyphs on rocks and you will also see the area named Mouse's Tank after an outlaw who used it as a hideout during the 1890s.
California
Mammoth Lakes
With its neighbor being Yosemite National Park, Mammoth Lakes is an all-around place for incredible outdoor activity and stunning natural beauty. When you are not bundled up on the gondola to tackle the snow-capped mountains in the winter, it's a place where one might enjoy grazing across the lake in a fishing boat with your father. Perhaps one indulging in the fresh air as you and your sister reach the summit of a mountain trail. You might even stumble upon an amazing waterfall and see rainbows.
Read More about Mammoth Lakes
Pinnacles National Park
This Park landscape formed as a result of a combination of heat, frost, water, and wind wearing away rock. The caves are also a result of fault action and earthquake activity created by boulders falling into deep, narrow gorges and getting stuck between the rock walls.
Julian
Known for its scrumptious pies, Julian is a small Southern California town in San Diego County with about 1500 population. The quaint and charming culture makes for a perfect visit at any time of the year to enjoy eateries fresh from local farmers and ranchers.
New Mexico
Albuquerque
A beautiful state, and a lovely city. The city offers rich western history as well as delicious dining, comfortable weather throughout the year.
In Summary
The United States offers countless places of beauty and nature. A perfect example is the southwest, one of my favorite areas of the country. When you road trip through these areas you'll find its more than landscape candy for the eyes. Although I only mentioned a few of the small quaint towns, it is definitely worth taking the time to stop and visit them. The small towns you pass through can leave you with a humbling experience.
I invite you to follow along with more of my adventures and travel. Please subscribe, like and follow me on social media and my blog.
Fit Life and Travel
Blog: http://fitlifeandtravel.com/
Instagram: http://instagram.com/fitlifeandtravel
Pinterest: http://www.pinterest.com/fitlifeandtravel/
Facebook: http://www.facebook.com/FitLifeandTravel
Youtube:http://www.youtube.com/channel/UC15TZw5nx4XWwgKtIZ9LHsg
Google+: http://plus.google.com/u/0/+Fitlifeandtravel