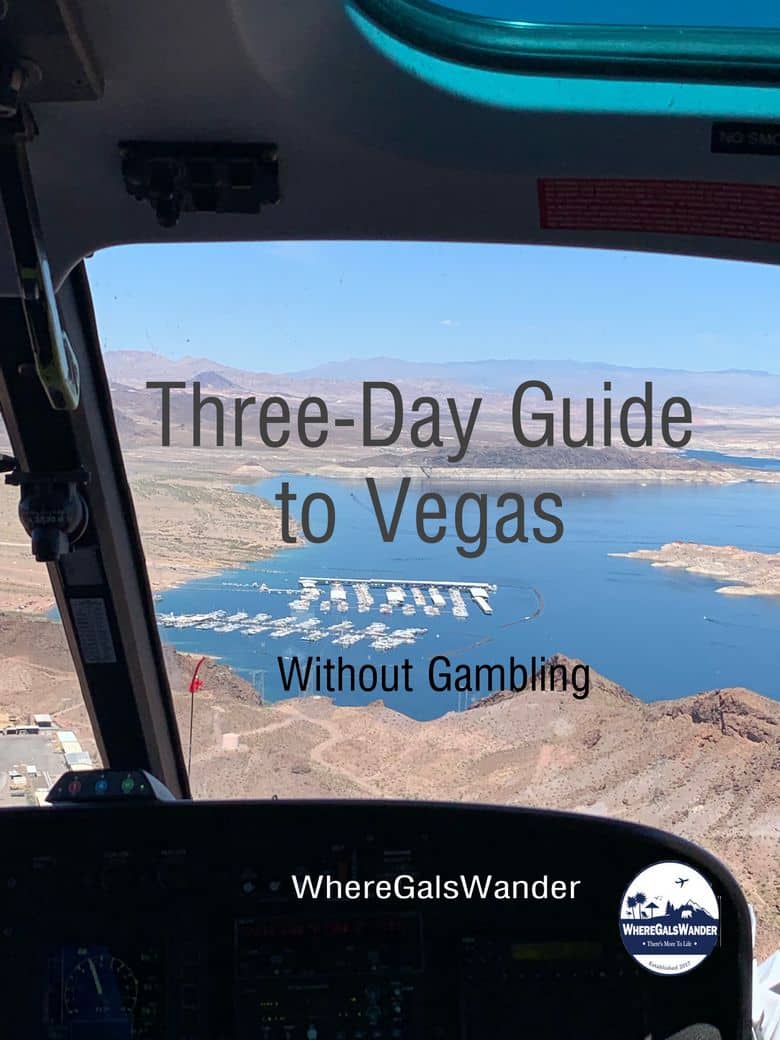 I was invited to experience a three-day guide to Las Vegas without gambling. Las Vegas is known for its high stakes, partying, and Elvis weddings. This was an opportunity to check out the other sides of Vegas: the adventure of rural Nevada and the finer side of the city. I have been to Las Vegas about a dozen times previously but this trip gave me goosebumps, smiles, and surprises the entire time. I'm sharing my 36-hour itinerary to replicate my amazing trip. Here is your travel guide to the "New" Vegas.
Day One in Las Vegas
After I landed, I took a cab directly to Treasure Island, my gracious host for the next three nights. Treasure Island, or TI, as they now brand themselves, has moved beyond the land of pirates and now is the center of some of the essentials for Vegas: dining, shopping, and entertainment. TI is the home of Cirque Du Soleil's Mystere, the original Cirque production (more on that later). It also has the Scientific Training and Tactical Intelligence Operative Network (S.T.A.T.I.O.N.) headquarters for Marvel Avengers. I was actually trying to find time to squeeze in a visit to see this since I am a huge Marvel fan, but the itinerary was pretty full.

6:00 PM
The night started at Gilley's Saloon. Gilley's calls itself the only real honky tonk on the Las Vegas strip. I had visited Gilley's previously and it is one of my favorite places in Vegas. Here's the confession: I had never actually eaten there. Bull riding, drinking, line dancing? Yes. Eating? No. I soon found what I was missing out on. Delicious BBQ and huge portions! I was so full I had to behave myself. And then I was off to Cirque Du Soleil.

9:00 PM
Mystere by Cirque Du Soleil deserves an article all its own. It's a good thing I wrote one already. The Energy of Cirque Du Soleil Mystere.
11:00 PM
One of my favorite things about Las Vegas is the way the city lights up at night. Time for a little sightseeing.
Day Two Las Vegas
7:30 AM
Depart for networking breakfast with Las Vegas Territory organization. I had the opportunity to meet some of the businesses responsible for transforming the "old" Las Vegas into a new destination where just about anything is possible. Drive a Lamborghini, drive a bulldozer or excavate a site, experience European go-kart racing, Pink Jeep tours, helicopter rides, hiking…whatever your adrenaline calls for, the "new Vegas" has it all.


10:30 AM
We depart for the Valley of Fire State Park. The park has 40,000 acres to hike and explore. Our tour could only hit some of the highlights like Atlatl Rock. There are three stories of stairs to climb for amazing views of the park or to spot bighorn sheep and see the 4,000 view old petroglyphs. The black patina across the red rocks is the rust from the red Aztec sandstone. The colors across the park and the energy reminded me of Sedona. We saw Elephant Rock, saw the giant Beehive rock formations, brought our box lunches for a picnic lunch at the picnic tables behind the Visitor Center and then went on to see Rainbow Vista.

2:00 PM
We departed for Boulder City with a stopover at Lake Mead and took in the lovely desert landscape on our ride. We arrived at the Lake Mead Visitor Center and had a chance to photograph the scenic views and learn about the history of Hoover Dam and Lake Mead. Lake Mead is actually a National Recreational Area with over one million acres for boating, hiking, camping, and fishing. On my list for my next Vegas visit is the Sunset Dinner Cruise on Lake Mead.

3:30 PM
Boulder City is full of history and charm being the city that grew with Hoover Dam's construction. It was seen as a beacon of hope for a better future for a nation and survive the Great Depression. The town is only one of two cities in Nevada that prohibits gambling. If you want to take in rural Las Vegas territory and experience the history, the Boulder Dam Museum is also the Boulder Dam Hotel, a historic landmark full of charm. Small-town feel with antique stores, ice cream shops and bighorn sheep that make appearances, it is the opposite of the city of Las Vegas.

5:00 PM
We spent a few hours exploring the historic district and then headed back to Las Vegas for dinner at Fogo de Chao at 6 pm. If you have never eaten at a Brazilian Steakhouse, it is a fine dining experience unlike any other. It begins with a "Market Table" which is an experience in itself. Its almost an appetizer bar. I tried the assorted cheeses, brown sugar, and pepper bacon, potatoes, salad, Charcuterie bar, and there was still an entire side of the market table I never even reached. Then the "meat" experience begins. You simply flip a coaster indicating you want a server to visit with fresh cuts of meat on skewers they carve for you tableside. I think we had seventeen options to choose from that evening from various types of steak chicken, lamb, and pork. We stayed until about 9:00 PM and then headed back to Treasure Island.

Day 3 Las Vegas
Sometime in the morning: I had the best Las Vegas brunch in all of my visits, and it was at Treasure Island. Who knew? Honey fried bananas have now changed my life. Then I headed out to the pool area to check it out.

10:00 AM
I board my bus courtesy of National Park Express and head out to Papillon Grand Canyon Tours from Las Vegas. First about Papillon: they are located off Lake Mead and offer every type of excursion or tour to the Grand Canyon and surrounding Nevada area by copter, plane, boat or Hummer. This was my first time on a helicopter, and they were really amazing. I have to give a shout out to our pilot Marnie who really made it a great experience. We flew over Lake Mead and Hoover Dam and I had a chance to see once in a lifetime views. As soon as we lifted off and I could see over the hill, my fear of heights was completely forgotten.

2:00 PM
I grabbed some lunch at the Hoover Dam Casino next to Papillon and then back on the National Express Bus to Hoover Dam. Testing my fear of heights once again, I took in another view of Hoover Dam from the  Bypass Bridge.  Just for the fun of it, I walked from one end in Nevada to the other end in Arizona.
4:00 PM
We arrive back at Treasure Island and I quickly change for the more glamorous side of Vegas.
5:00 PM
We are joining Photo Tours Vegas to start our party. John and Joni took us to the best photo spots to capture that legendary side of Vegas. It was like having a guided tour, party bus with music, props, champagne and our private photographer all in one. I love this idea for a Gal's getaway or Bachelorette party. No chasing down cabs, and you have special moments captured for a lifetime.

LATER THAT EVENING
Later, our group of social influencers/travel media professionals met at Senor Frogs's for dinner. It was another fun atmosphere and it was a beautiful night to dine outdoors and watch the sunset reflected in the resort across from TI. One of the best parts of the trip was an opportunity to network with other content creators who share a passion for travel, and I look forward to keeping in touch. One you take photos in feathered boas alongside someone and down a margarita together, that pretty much means you are friends for life, right?

The opportunity came to explore another headliner show, some went off to explore Terry Fater, some saw Friends, a few ventured off to Magic Mike. When it comes to the theater in Vegas, there is something for everyone. Unfortunately, I had a ticket to see Criss Angel but his performance was canceled for that evening. I'll catch you next time Criss. I had an early flight out of Vegas the next morning. As soon as the sun was up in the sky, so was my plane.
Special thank you to Las Vegas Territory, Treasure Island, Papillon Helicopter Tours, and National Park Express.
Disclosure: all activities and accommodation were paid for, but no requirement to be featured by WhereGalsWander.