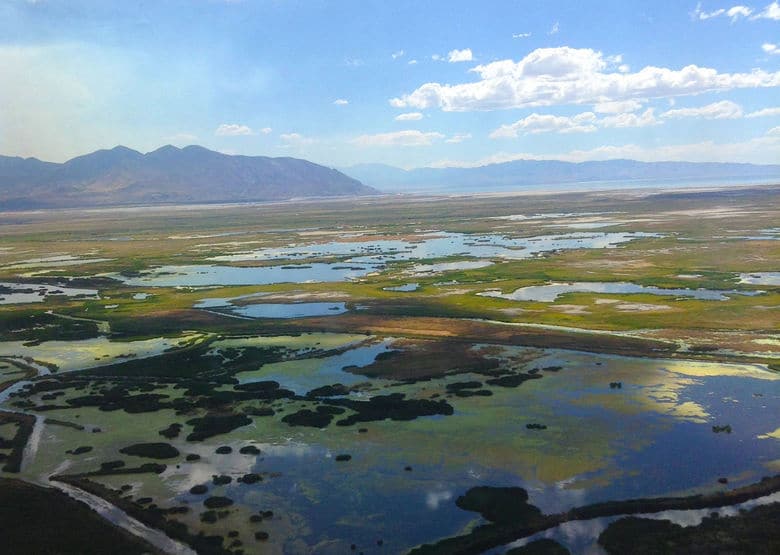 You can recognize a true travel addict when they get excited from views from above as I did flying over Salt Lake City.  In my former job, I traveled a lot. Sixty roundtrip flights each year, leaving at the crack of dawn Tuesday morning, walking in the door late Thursday night.  Many of the flights are a blur.  One that I will always remember will be to Salt Lake City.  Reason one is the bizarre flight experience itself. Reason two is the views are unlike any I had ever see before.
I flew out of O'Hare (I prefer Midway) and I only had 15 minutes notice to change terminals. It may as well have been changing cities, racing through one terminal to catch a train to take to another terminal. The airlines switched us to a smaller plane and changed all our seats. All of the seat assignments were now worthless. I was stuck next to a woman who had her cat in a carrier shoved under the seat in front of her. The cat howled (painfully) all the way from ORD to SLC. I remember thinking "who brings a cat….on a plane????" Little did I know. Flash forward to me, a year later, moving to Los Angeles and hauling Destiny, the Little Black Nightmare Cat onto Southwest, but that's another story.
I remember flying into Salt Lake City was looking out the window and thinking we were landing on another planet. It was twilight, and the sun was going down, hitting its light on the ponds and canals across the area. It looked as if we were about to land on Jupiter, with the green swirling waters, twisting across the stark white land.
Then we landed. I found out that our gates had again changed. Nimbly, I escaped the cat lady. Then I raced from Terminal A to Terminal B with only 8 minutes to catch my connecting flight. The only saving grace from that trip was the magnificent 6 minutes of descent over these amazing views, and my only experience of Salt Lake City so far, in my travels.