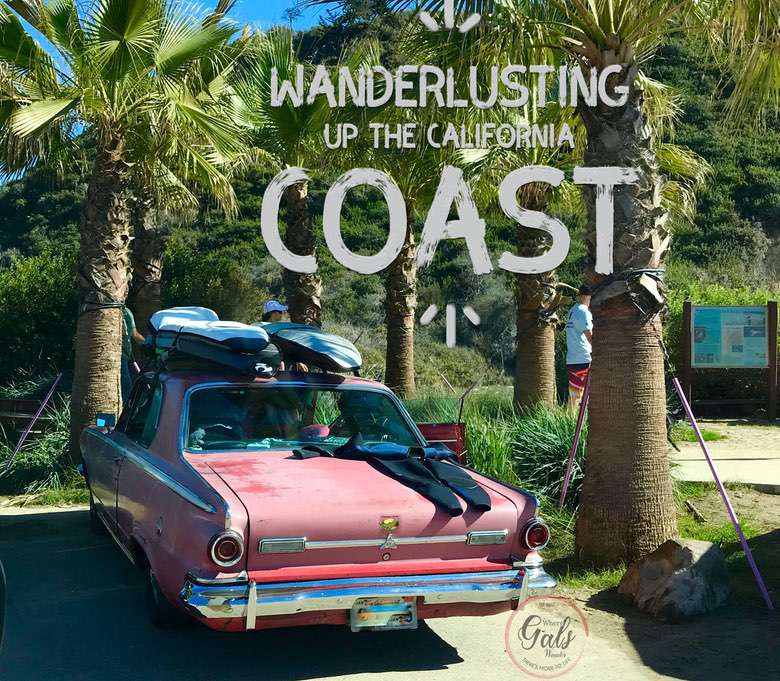 The saying goes…" it's not the destination, it's the journey". This begins my tale of the drive up the coast one Sunday morning. Every Thursday night, around 7:00 pm (which is now, by the way) my wanderlust craving begins. If you follow our regular feature on Weekend Wanderings, by Thursday night we are already thinking of the types of memories we can create this weekend to talk about on Monday. This particular week, I was thinking a lot about the communities impacted by the wildfires (Thomas, Rye, Skirball and others) and I really wanted to see for myself the damage, but more importantly, see the communities start to heal. This story is an ode to spontaneous adventure, and a love letter to California, which still stands strong in her beauty.
Sunday morning and we started on the 101, driving past the rolling hills of Santa Clarita, into Fillmore, Santa Paula, through Ventura. Off in the distance, you could see this hazy cloud hanging in the horizon, and I realized that on this windy day, it was the dust and ash from the fires from the hills being blown across the sky.
I snapped a lot of photos of the charred hills, which you can see in my previous post here. But this tale begins when we decided to spontaneously turn off the 101 onto the Pacific Coast Highway. Homes along the PCH stood just above the firelines, and the hills were black and sprayed with pink and red fire retardant and banners hung from their porches with bold "Thank You Firefighters!" declarations.
We pulled into a little-unnamed overlook, that was filled with RV Campers parked right along the beach, and as I stepped out to grab some photos (I can never resist) I struck up a conversation with an older couple next to me, taking in the view. He was a wounded war veteran, with an amputated arm, that he first apologized for, as he gestured out to the sea, pointing out different landmarks for me. He told me that on this beautiful, 80-degree weekend, everyone returned to this spot, finally feeling safe to travel these roads that had buried under mudslides.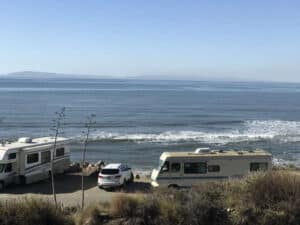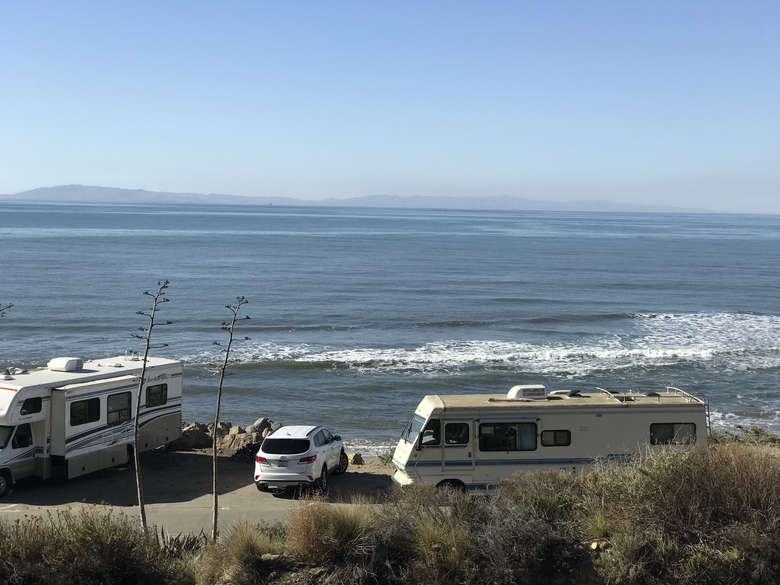 He talked about how it would be dangerous to camp in the wooded hills along the beach, listening for the sounds of trees cracking or earth moving, creating another mudslide like the ones we had in January, causing so many fatalities. We talked for a while, and then he handed me a pocketbook calendar with all of the tides schedules for high tides, rising tide, low tide and such and told me to head "up aways" to Rincon Beach to really see the tidal pools and all of the where's and when's. I thanked him for his service to our country and his kindness. Such a great memory and I keep that pocketbook in my car's glove compartment now, just to have it handy.
Rincon Beach, also known as "surfer's spot" was an ideal spot. To give you an idea, there were people riding white horses along the ocean's waterline, and dogs were playing and jumping in the surf as families had picnics on the beach. We were now in our fourth hour of road-tripping and hadn't even hit Santa Barbara yet, but these spontaneous stops were exactly the type of wanderlust adventure I was looking for.
Except now I'm hungry, so Yelp suggests we go to Hendry's Boathouse on Arroyo Burro Beach. Really cute little cove and the restaurant must have been fantastic because there was a 90-minute wait. If I had thought Rincon beach was an ideally, iconic spot that screamed "California" I snapped the photo below of the vintage car with the surfboards and wetsuits spread out on the trunk, drying under the sun and palm trees–probably one of the most favorite photos I've ever taken. I think it because what this trip embraced-spontaneous capture of what it means to have an adventure just driving up the California coast. We finally did eat, and headed to Goleta to check out the beach and then a couple hours at Stearns Wharf in Santa Barbara, but then headed back. To me, a perfect Sunday.