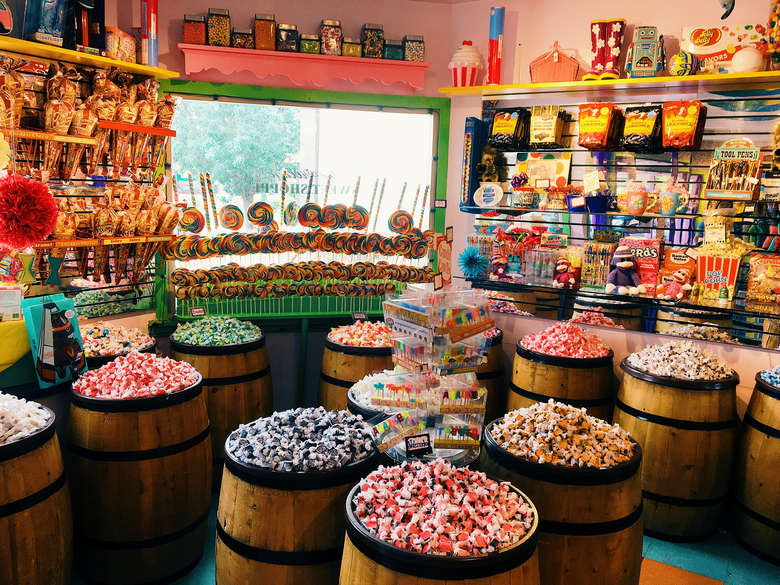 If you want that cozy, holiday, cabin feel, even in the middle of summer, I present: Christmas in July at Big Bear! Big Bear Lake, California is known for being a winter ski and snow resort up in the San Bernardino Mountains. It's been a hot, dry summer, with Los Angeles hitting record triple-digit temperatures. Remembering our last visit in the fall, to see the snow and feel the chill on our cheeks, would Big Bear bring us the break from summer we were looking for?
It takes a while to drive from the 210 up the mountain. Plan on driving a slow winding narrow road, hugging the curves of the mountain's edge. Soon you'll feel the cool breezes and smell the pine trees. Driving up past an elevation of 7,000 feet made it feel like we were on our way to the North Pole. It already feels like Christmas in July on our way to Big Bear!
BigBear Village

We fell in love with the little village when we visited last fall and the quaint local shops. Previously, we warmed our hands by the bonfire warming stations they had up and down the streets. This time it was humid, in the high 70's, and at one point, began to rain, but you could still feel the nostalgia of winter peeking through. Literally feeling like a kid in a candy shop, the brightly colored shops and rustic charm of the village beckoned. With shops like The Village Sweet Shop, North Pole Fudge & Ice Cream Co., A Christmas Store 'N' More, and North Pole Sweets and Treats I could almost hear sleigh bells and see the snowflakes begin to fall. There was some magic in the air and we forgot about the hot summer waiting for us again at the bottom of the mountain.
And when you are ready to celebrate Christmas in Los Angeles, I have all kinds of suggestions for you.
See my other article about our time at Lake Arrowhead and Big Bear. I share my stay at the cabin. I'll take you on my adventures at the lake and hiking in the mountains.
Actual Christmas in Big Bear
If you do visit in the winter, this is your go to place for sledding, skiing, and snowshoes. I have always wanted to visit SkyPark at Santa's Village, but that's still on my "must see" list. Every season, Big Bear has events, live entertainment and shopping. Bring your winter gear, your snow chains, your warm mittens and coat.