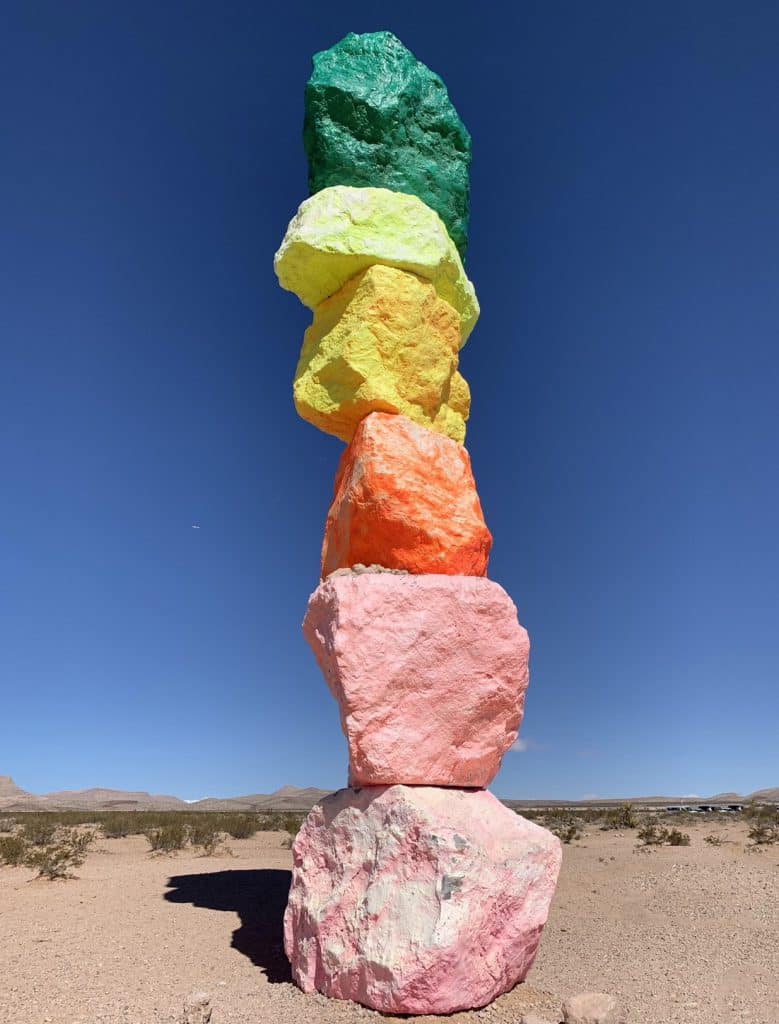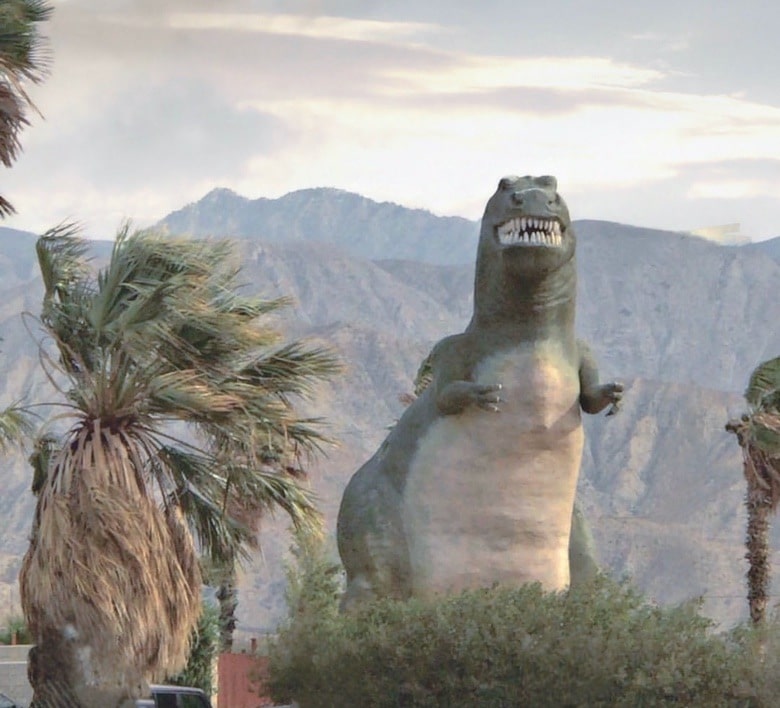 Road trip attractions along the way – these are what create great road trip stories are made of. I've written a lot about road trips lately, and everything I've seen, but I had to create a list of roadside sights along the way on these trips. These are the things that had me pull off to the shoulder, or park and explore or just shake my head moments. These are mostly in the southwest, as most of my travels in the 12 months have been through California, Nevada, Utah, and Arizona. I'd love to see your comments about where we need to get the next "I pulled over for this moment". This is my collection of weird stuff I saw on road trips and some of the most beautiful scenery.
These road trip attractions are in no particular order, but were accidentally found along the way in my other road trip adventures.
1. The Cabazon Dinosaurs Road Trip Wonders
Cabazon, California
As you drive from Los Angeles to Palm Springs, California you may think you are seeing a mirage out in the desert. The first time I drove past the large dinosaurs in Cabazon, I had to make an exit and turn back around to confirm I saw what I thought I saw. Two of the dinosaurs are visible from the highway and are accessible with nearby parking. Know there is a $13.00 admission to see 50 dinosaurs previously featured in movies. That includes the staircase to walk up inside Mr.Rex to his mouth.
2. Antelope Poppy Reserve
(More Dinosaur Roadside Sightings)
Lancaster, California
Antelope Valley is famous for its orange poppy reserve, and the incredible blooms that occur each spring (March-April) for a brief time. Located in Lancaster, California, there is an annual poppy festival to celebrate these blooms.
Now: Annnnddd…because it's me, as we were driving past the reserve, these two dinosaurs were just dancing on the side of the road. Did I mention it was April and 90 F degrees? This is probably the most unexpected roadside sight I've seen so far.
Bonus: If you are in Lancaster, check out the Musical Road on Avenue G in between 30th and 40th Street West. If you drive 55 mph and roll down your windows, you might be treated to a song from the road!
3. Seeing Seven Magic Mountains
I-15 Highway outside of Las Vegas, Nevada
Along Highway 15 you'll find a series of neon painted boulders and huge crowds of people taking photos. Because this is known as Seven Magic Mountains, an art installation of a series of bright-colored, stacked boulders 25 stories high that draws Instagrammers from everywhere. The rocks are fun to photograph, but here is what they don't tell you: it's crowded.
What's tricky is trying to get a photograph without a lot of people. It's windy. In March, it was very cold. It's a rocky walk to get from the parking area to the rocks themselves. There are no facilities, because you are in the middle of the desert. So please use common sense.
And then there's me.
For instance, here's my Instagram post:

There are always see these amazing Instagram photos and the women are wearing some glam outfit and look all sexy.
I look like this partly because I was up at 2:30 this morning. Then driving all day. Because it's freaking windy as hell & freezing. Now I have my winter coat on. Can you see how my warm, bulky sweater is rolled up so it doesn't hang out of there bottom? My lips are raw and hair is tangled from the wind. I'm damn cold. Dig me.
4. The Virgin River Gorge & The Narrows
I-15 Highway from Nevada through Arizona to Utah
After exploring Red Rock Canyon State Park in Nevada, we continued on our Epic Road Trip to Zion and Bryce Canyon. To get there, we drove out of Mesquite, Nevada on Highway 15 and through a corner of Arizona about 30 miles long to St.George, Utah.
We pass through "The Narrows", named for limestone cliffs about 500 feet high and then into the Virgin River Gorge. This small stretch of highway had some of the most jaw-dropping scenery I've encountered. Luckily, we drove through at the most opportune times in early morning light and golden hour–no filters used on these photos.
6. Alien Fresh Beef Jerky Roadside Attraction
Baker, California
You'll see the signs long before you reach Baker. At first, you might think it is a joke, but then realize this 1800 square foot warehouse roadside sight is all about an alien experience. What began as a roadside stop for healthy snacks but now has even expanded to selling online "Abducted Cow Pineapple Teriyaki". But wait, there's more, there is a UFO Hotel coming! Currently under construction.
7. Shoe Tree on The Loneliest Road in America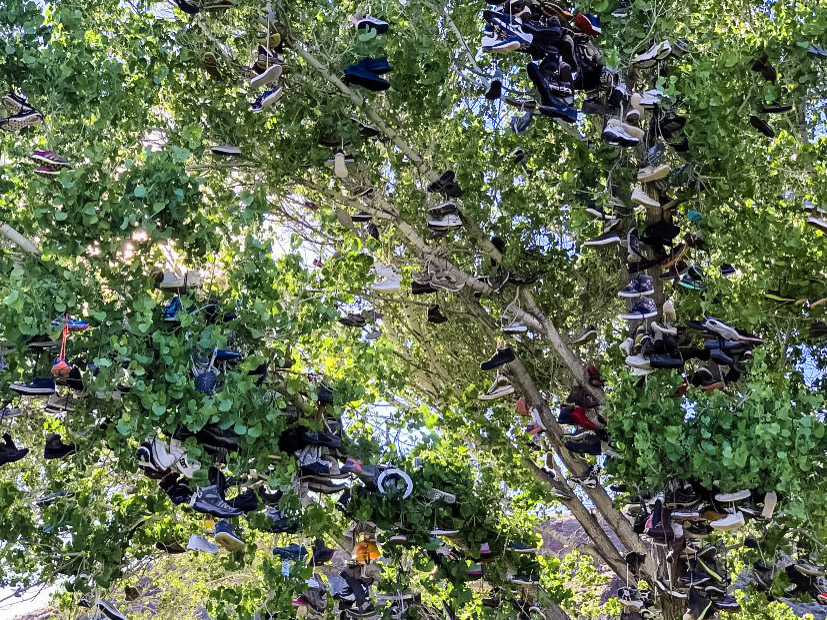 Highway 50, Nevada
So here's the story behind the original Shoe Tree, a famous road trip attraction along the way on the Loneliest Road in America. A couple was camping under the tree, and got in an argument. Then she threatened to go home, and he replied with "then you'll walk home barefoot!", threw her shoes into the tree and he stormed off and drove to the local bar (Middlegate, Nevada-see the other post for more!).
The husband was convinced to return to her, and he threw his shoes at hers, now both pairs are stuck in the tree. Soon, others started to join in, throwing their shoes up in the tree as well. Unfortunately, vandals cut down the original shoe tree in December 2010, but a new shoe tree was designated in 2017, now located between Middlegate and Cold Springs as an updated roadside sight.
8. Driving Zzyzx Road: The Roadside Attraction Is The Road
Mojave National Preserve, California
The roadside attraction along the highway from LA to Vegas is the road itself, from the weirdest road name to the history of the town behind the name.
Known formerly as Sida Springs, but now Zzyzx, California is now an unincorporated area. It was named because it wanted to give it the distinction of being the last road to be listed alphabetically (why not, I guess). Now iconic as being used in songs, album titles, movies, and other media. In reality, the almost 5 mile stretch of road has more remnants of historic wagon trails and early railroads. If you want to visit here, you will have to learn how to say it, because it's also won the award of most difficult road name to pronounce (Readers Digest).
Los Angeles Street Art District
If you happen to be traveling through LA, make sure you drive through downtown LA Arts District. Tucked away near Skid Row and Little Tokyo, this is an up and coming neighborhood with boutique shops and cafes. The main roadside attraction here is the graffiti art painted on almost every building in the neighborhood. For more photos, check out Street Art LA.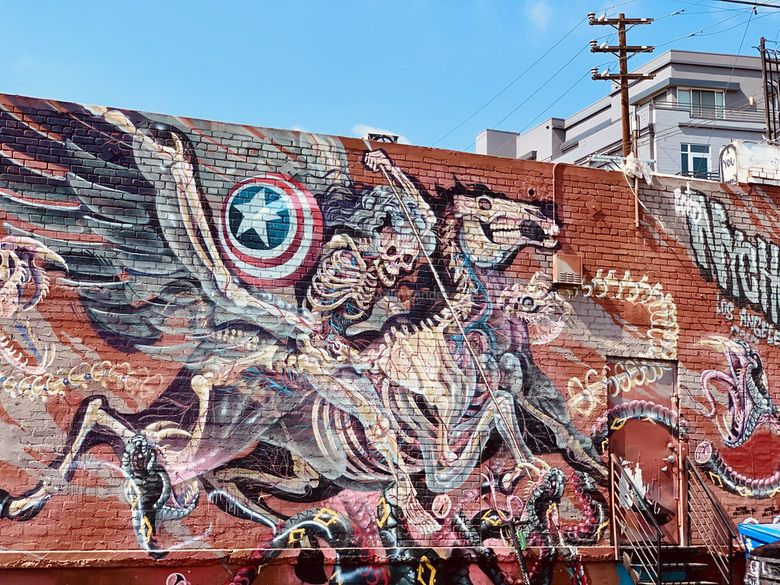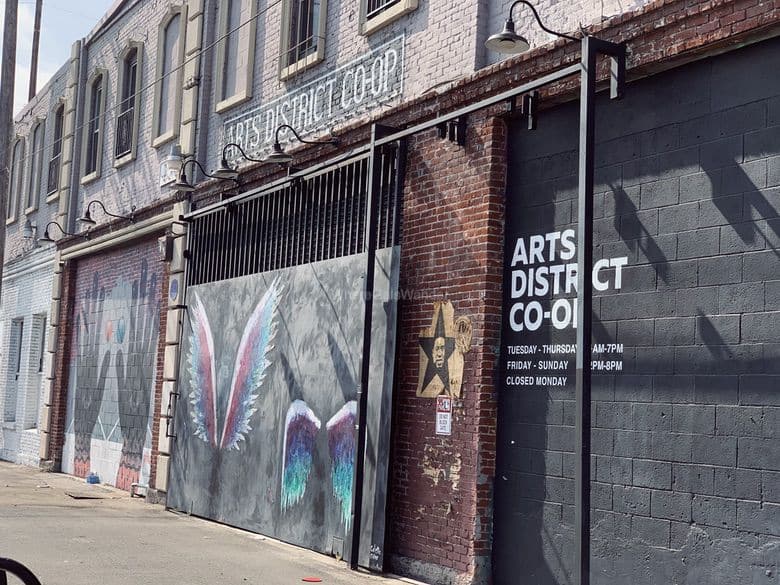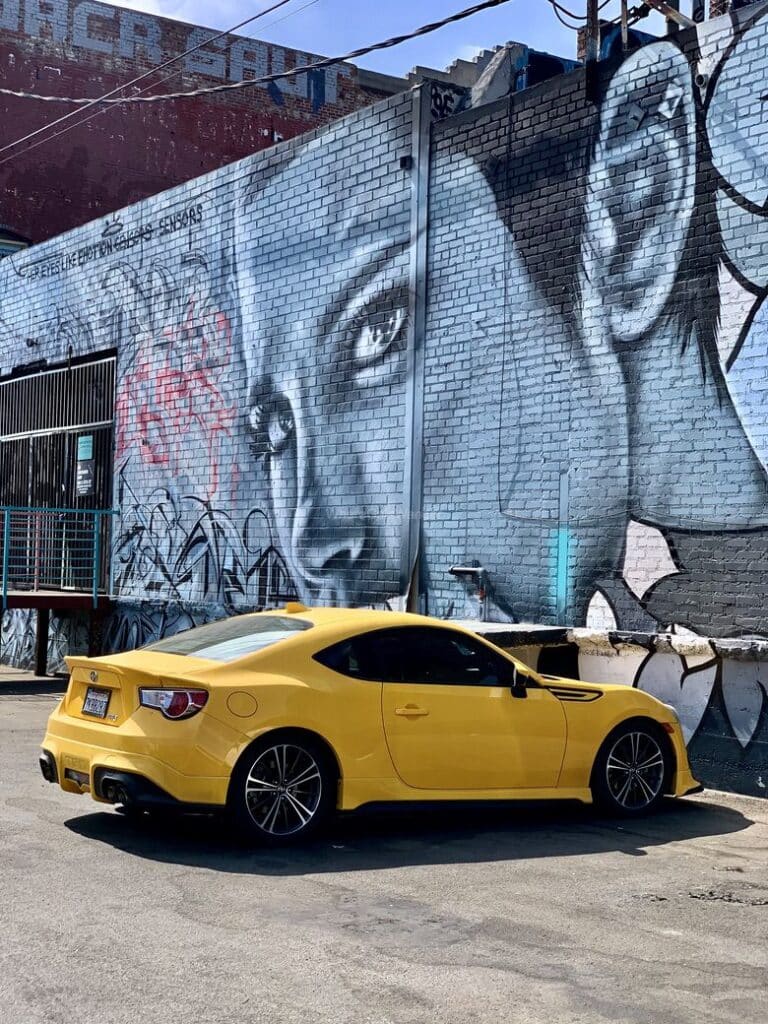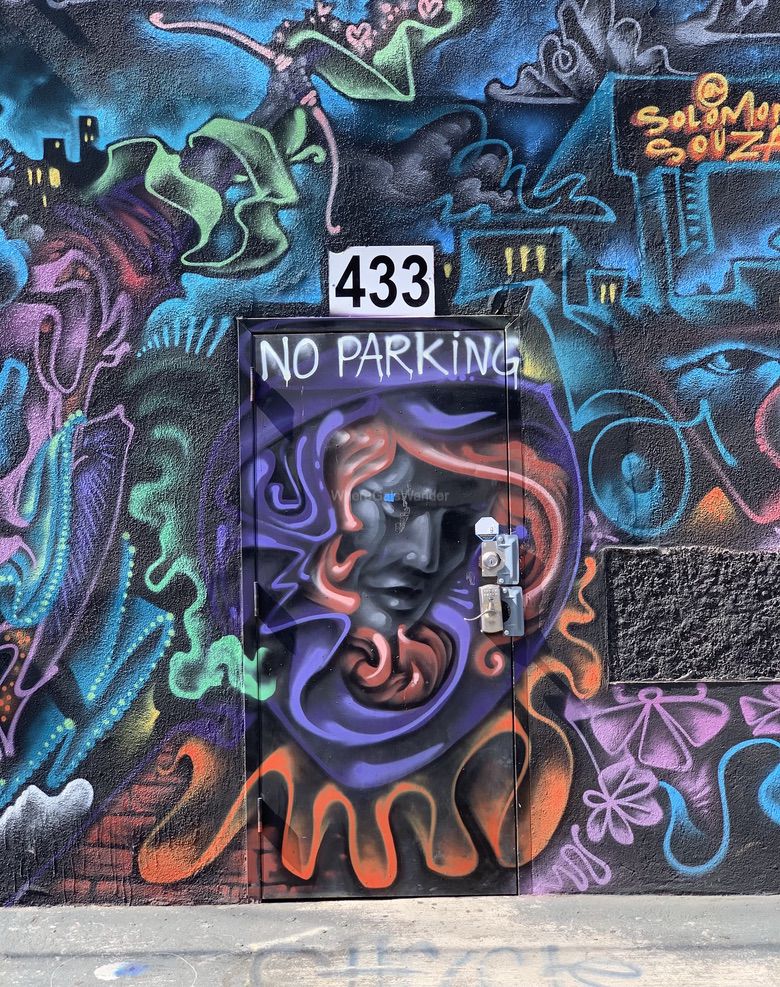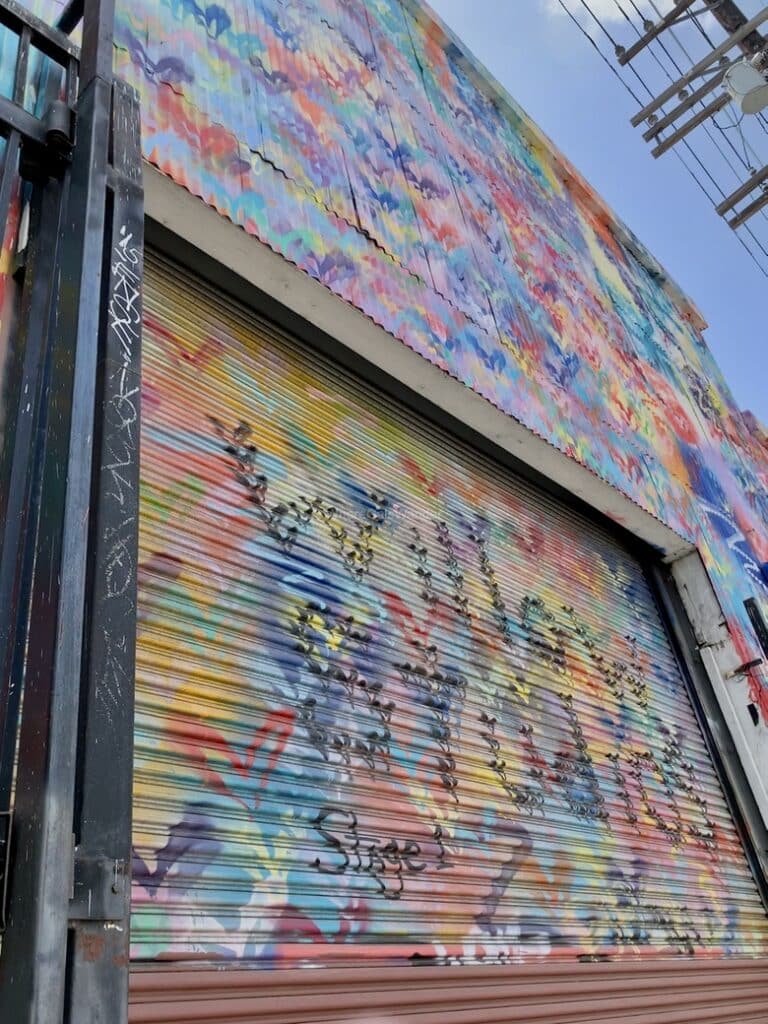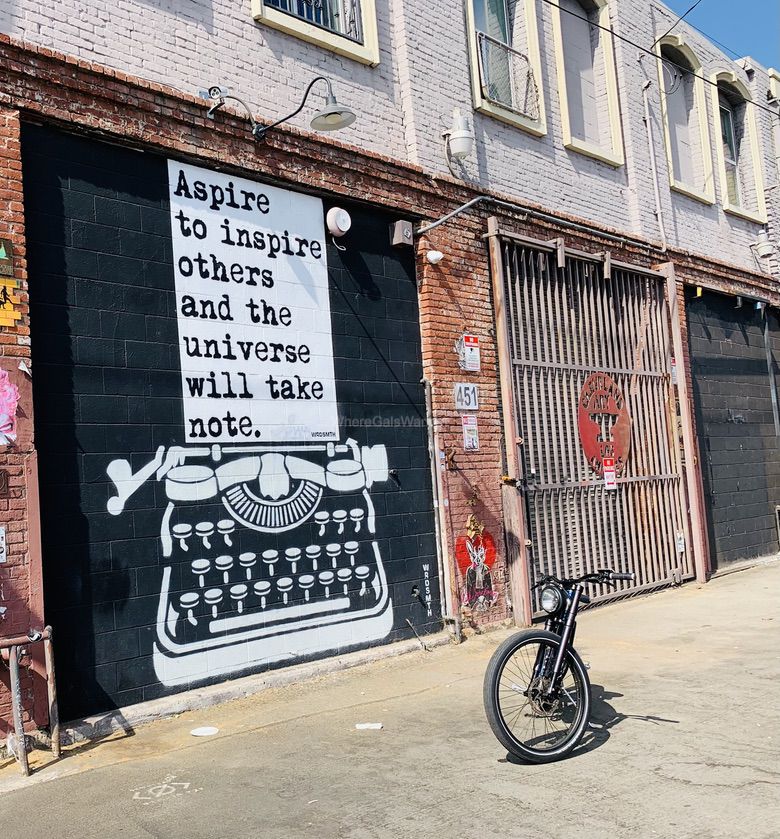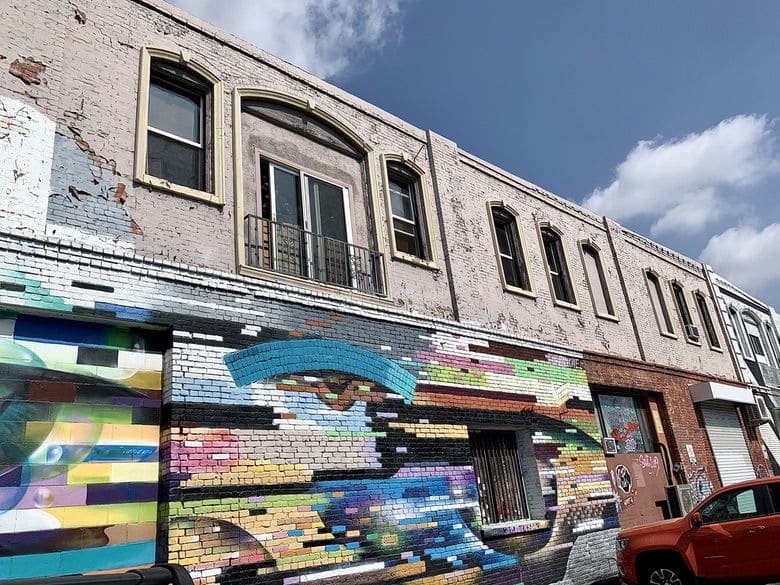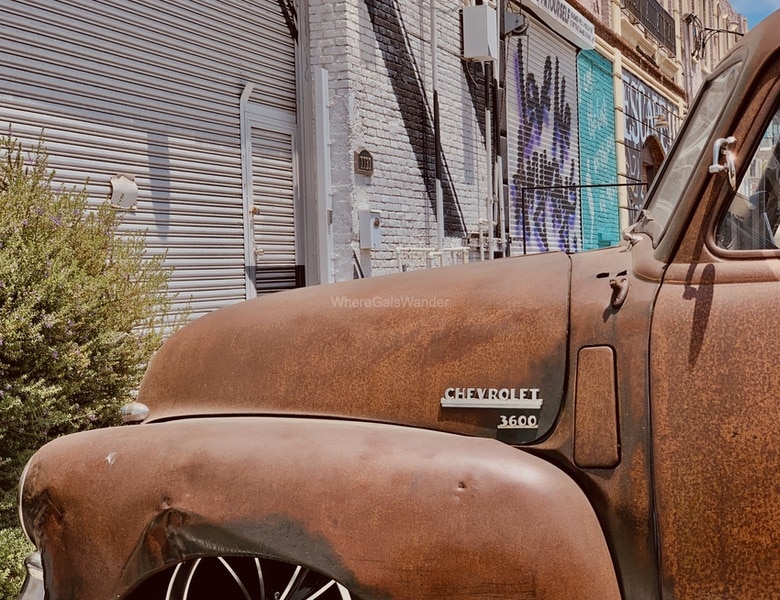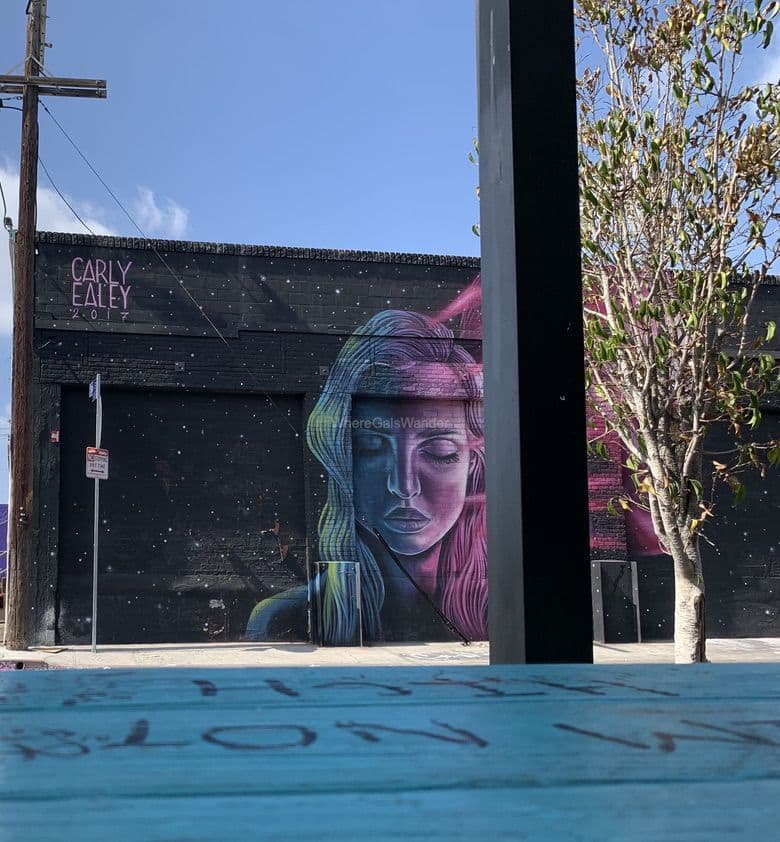 Original post August 2019-updated October 2020. All content, images, everything you see & read copyrighted by WhereGalsWander.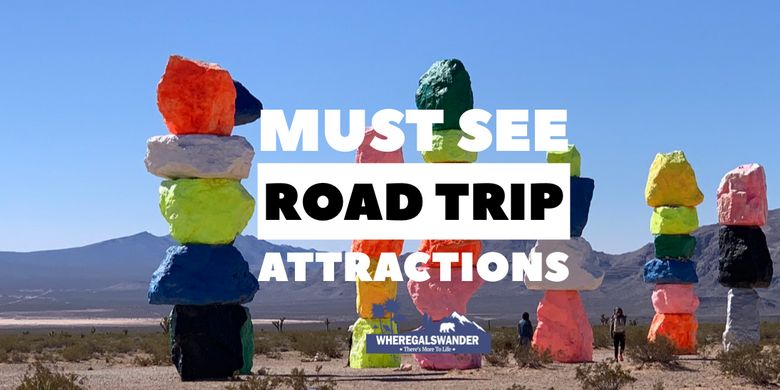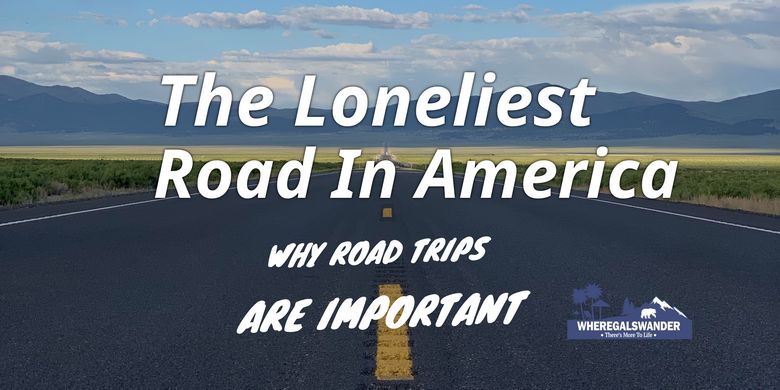 Road Trip From Arizona to Chicago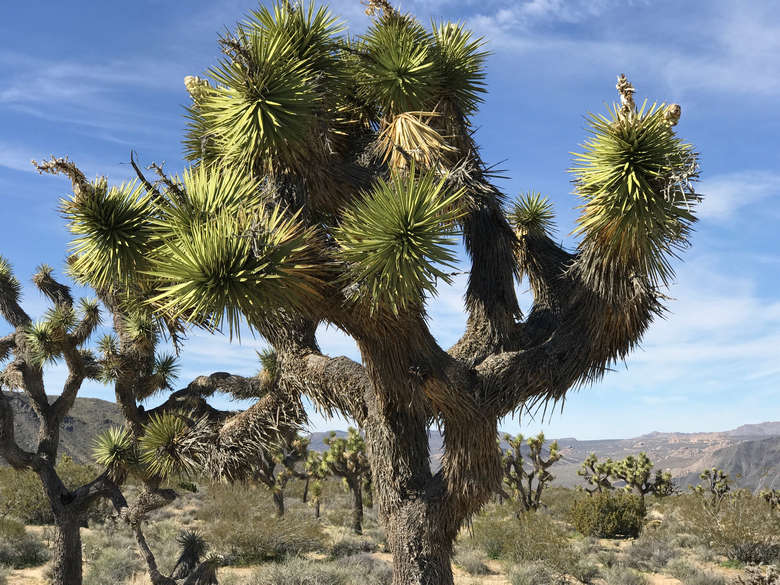 Road Trip Through Joshua Tree National Park