Why Boston Gardens is a Must See
Boston Public Gardens: America's First Botanical Garden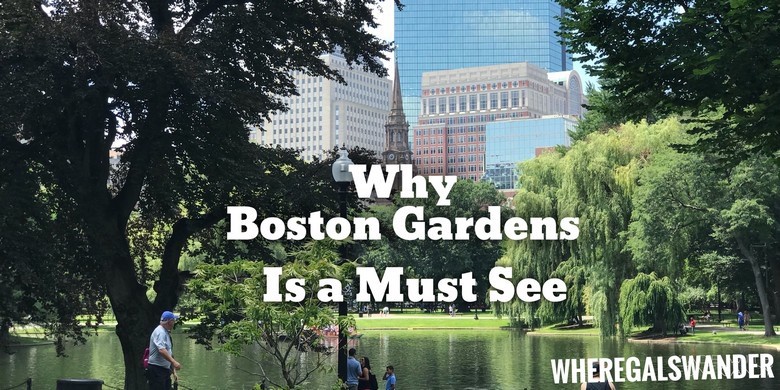 "You will never be completely at home again because part of your heart will always be elsewhere. That is the price you pay for the richness of loving and knowing people in more than one place." -Miriam Adeney
It was our last day exploring the city of Boston, having just had breakfast at a cute French pastry bistro.  The purpose of our trip wasn't to check sightseeing icons off our list, we just strolled through the city on a hot, humid July Sunday morning.  We came across the huge statue seen below, and curious I gestured to it.  M and I wandered in, as we Gals tend to do, and found a beautiful city central park area.  The park was so serene and charming and offered lots of shade from the summer sun.  The lake with the swan boats was so relaxing to watch.
The park is free. No admission fee to get in. Boston is an expensive city, so this was a great little escape from both the heat and the cost to soak up the city.
The History of the Park.  It is the first and oldest Botanical Garden in America and was built in 1837. It was declared a National Historic Landmark in 1987.
The Gardens themselves are always full of bloom and are modeled after Victorian style gardens.
Even the Swan Boats have been operating since 1877. They run from April to Labor Day, approximately 10 am to 4 pm. The ride is about 12-15 minutes and the cost is $4.00 per adult.
The breathtaking views of the Boston City Skyline. There are also musicians playing as you walk around the lagoon and just such a beautiful place to take in the sights and sounds.
Boston Public Gardens are part of the "Emerald Necklace." Boston's Emerald Necklace consists of an 1,100-acre chain of nine parks linked by parkways and waterways.
The Boston Public Garden is home to 4 different types of trees around the 24-acre property.
Our exit out of the Public Gardens had us back on the quaint cobblestone streets of Boston.