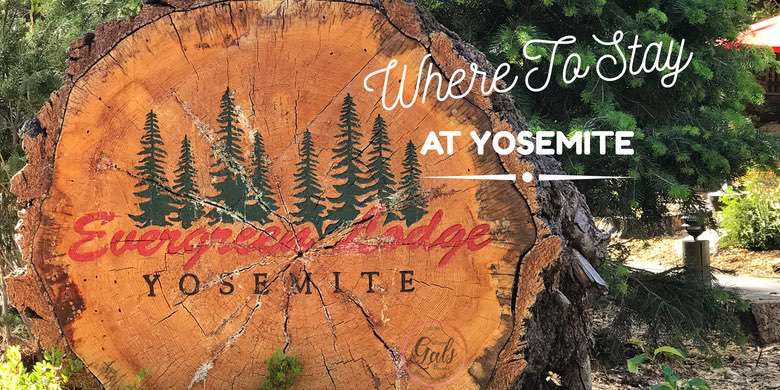 Deciding where to stay in Yosemite: Evergreen Lodge. The resort just heightened our experience of visiting the National Park. In my last post about Yosemite, I wrote about my lifelong dream to fully experience Yosemite. I also wanted that experience to continue when I left the National Park; I wanted to remain nestled in the trees, still hear the birds singing, smell the pines, and feel the earth crunch beneath my feet. A family camping trip with bonfires and roasting marshmallows and campfire songs…but the idea of warm showers, a cozy bed, air conditioning also appealed to me.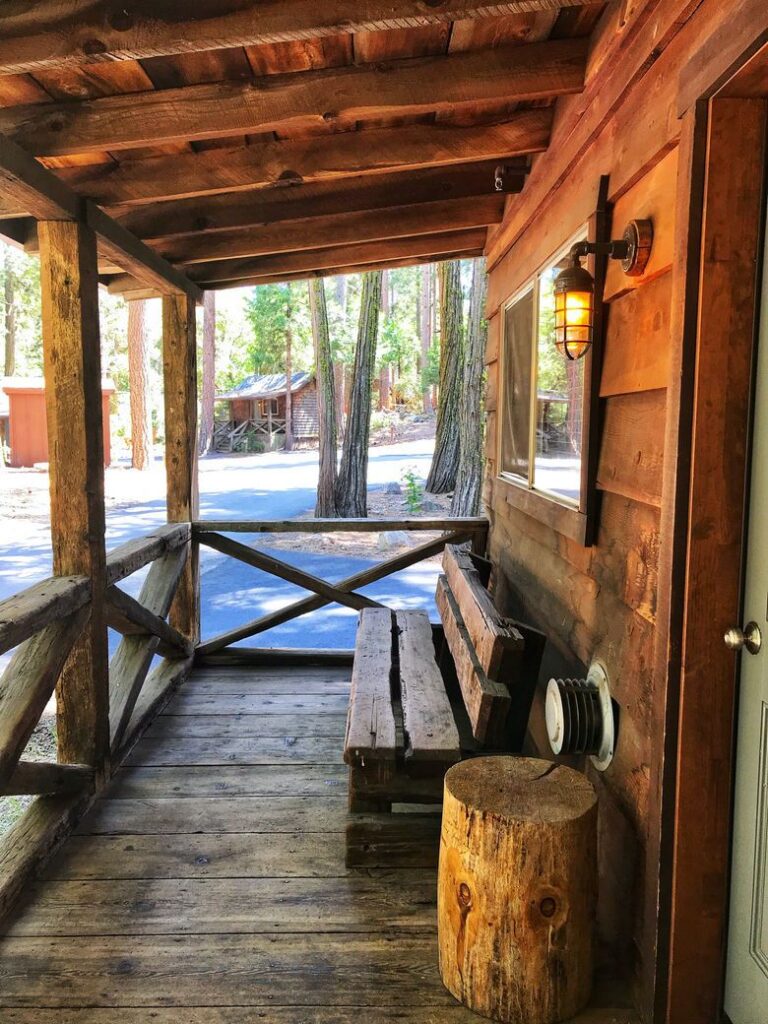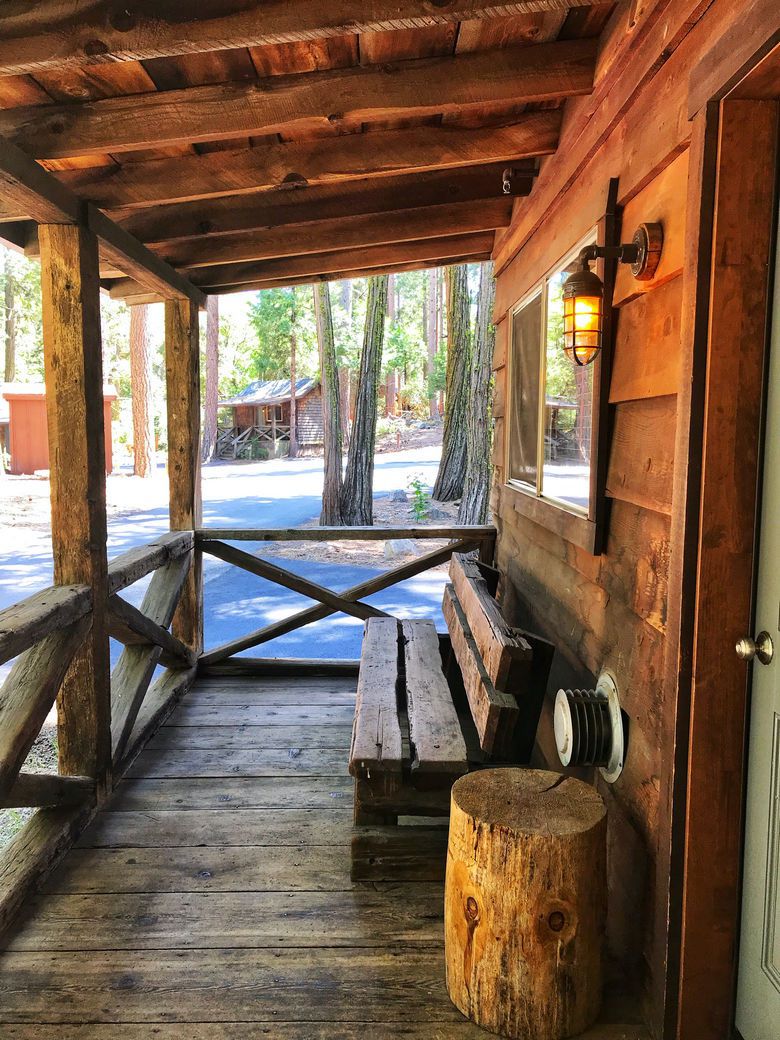 Why Stay at Evergreen Lodge
In my research of places to stay, I searched for the places closest to the entrance of Yosemite National Park, carefully reading all of the reviews (which eliminated many of them) before finding the highly recommended Evergreen Lodge- A Classic Yosemite Resort. Not only did it have everything I was looking for, but activities for the kids, a rustic, but comfortable cabin, a solar-heated saltwater pool–and onsite restaurants. This meant less time cooking after a long day, and less frustration of hauling and trying to store food. The food in the restaurants was delicious (I included a copy of one of the menus below). Poolside bar? Summer BBQ buffet? Campfire nights? Even if this wasn't a 15-minute drive from Yosemite, I would be enticed. A summer camp feel with luxury (massage cabana, enough said) all right in the middle of my Yosemite Lifelong Dream could not have made for a better experience.
Accommodations
What I wasn't expecting was my daughter spraining her ankle the day before our trip. We ended up traveling Yosemite for the first time on crutches. Luckily, the grounds of the resort were very easy to get around and accessible for crutches. I'm very selective when it comes to cabins, and you may noticed from my other travels that I have a sweet spot for wooden cabins in the woods surrounded by trees.
The options include Deluxe, One Bedroom, Family, Vintage and the beautiful 2,500 square foot JohnMuir House for shared family rentals. Custom Camping includes fully furnished, set up tent sites. There is also a sister property called Rush Lake. Depending on your selection, some of the cabin accommodations may include:
cast iron fireplaces
seating areas
front porch deck
bunk beds
private deck with views to the woods
Log Cabins with a Rustic Feel
What I loved: it still had that rustic, being one with nature feel. We had the king bed bunk bed family cabin and it was a cute, clean, small but cozy. There was a portable air conditioner which actually worked great, despite it rising to 90 degrees. There was a one-foot cubic refrigerator, perfect for bottled water, but honestly, the water in the bathroom sink was the best we had ever tasted, confirmed by the sign in the bathroom stating the water was clean and pure, drilled through 700 feet of granite, and was the best we ever tasted.
Things to Do Outside of Yosemite
This was a family trip with my husband an avid outdoorsman and my two teenage girls. For our downtime outside of Yosemite we wanted to have a selection of activities that could meet all our needs, but still keep with the rugged feel of the outdoors.
Activities you will find you stroll through Evergreen Lodge:
Horseshoes
Bocce ball
Ziplining through the yard (think kid-sized)
A playground
Nature hiking trails
There is a recreation activity center that would have daily activities such as Bingo, s'mores making, campfire sing-alongs, stargazing, t-shirt dying (depending on day/time). The nightly firepits and bonfires at night with the s'mores and campfire songs gave it a nostalgic summer camp feel and made for some great family bonding time and was nice and relaxed after a full day of exploring Yosemite. Hammocks hang between the trees (yes, I consider laying in a hammock an activity).
For a more indulgent resort experience, there are additional activities such as yoga and massage for an additional fee.
The Pool at Evergreen Lodge
The pool is a nice size, roomy, saltwater, solar heated with a 14 adult size hot tub. There is a walk-up pool bar, and during the summer you can purchase a wristband for the summer BBQ buffet and eat on the pool deck. There's also mocktails for the kids, happy hour and lunch menu. For other dining options, there is the main lodge restaurant (food was great), a pool hall and bar that serves food, and there is a general store on site that sells liquor, soda and groceries as well as coffee and breakfast items.
Additional Excursions and Adventures to Enjoy, In and Out of Yosemite Park
For the more adventurous adults, you can register for guided activities through Evergreen Resort including several naturalists hikes to North Dome, Half Dome, white water rafting, bike & swim excursions, and even an offsite sunset and wine event to watch the amazing sunsets over Yosemite. All of these events have extra costs and fill up early-none were available during our trip. Evergreen also has a special patio designated as "Sunset Point" to watch the incredible sunsets over Yosemite. It was a great spot to gather and meet the other guests after the bonfire and s'mores. Campfire songs would take place upon Coyote Hill.
Location
The resort is located within the Stanislaus National Forest, and it was about a 20 drive to Yosemite's gate. It is about a 5-minute drive to the Hetch Hetchy. Other notable spots include being near Carlon Falls, named America's Best Swimming Holes by Travel & Leisure Magazine, and a 5-minute walk to Camp Mather and its spring-fed lake. You can see nature starting to bounce back after the 2013 Rim Wildfire, the third largest in California's history) so you'll see a lot of the damage and tree removal. Many guests spotted bears in the meadows between Evergreen Lodge and Yosemite while we were there, sadly, we did not.
Travel Tips
Bring bug spray, you are in the woods after all. Make reservations early-it fills up fast in peak season. Take a look at their guided activities and register when you make your reservations. We are hoping to take advantage of these on our next visit. Bring a flashlight or headlight if you will be walking around the resort at night. We also wished we had spent 5 days here and had time to just relax in the recreation center (see photos below and you'll know what I mean) or taken a stroll to check out the lake at Camp Mathers. Definitely, take advantage of Sunset Point to end your day.